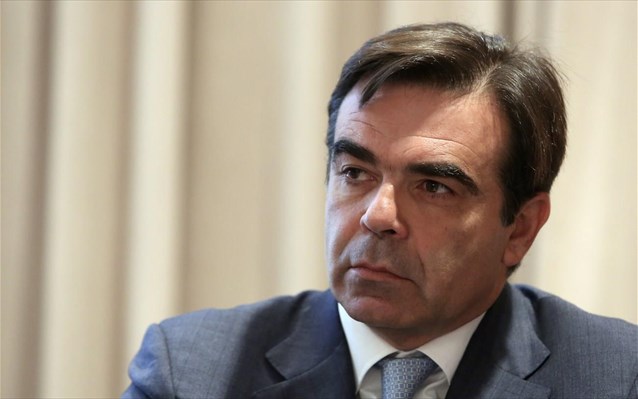 Although Antonis Samaras had begun preparing his suitcases for Brussels, the post of Commissioner was finally awarded to Margaritis Schinas, who will not have to move as he is already a spokesman for the European Commission and for Jean-Claude Juncker.
Mr Schinas, who has had a long and successful term in the Brussels bureaucracy, since even before the post of spokesman he had served in the offices of Commissioners, is considered the most appropriate solution for Greece, as he has a network of acquaintances and access at all levels of the European Commission. Liberal in matters of economy and realistic and ambitious in matters of foreign policy, Schinas enjoys an overall respect.
European journalists portray him as a European for Europeans and a Greek for Greeks. Due to the position of the coordinator of European institutions in the Greek problem in 2013, he had caused negative comments in Greece, however the then Prime Minister, Antonis Samaras, had appreciated his attitude in the often difficult negotiations. However, his view that the programmes were Greece's last chance to become a modern European state had caused discontent. Formerly, Schinas had also served as an MEP when he replaced Mr Antonis Samaras. At the time, Kostas Karamanlis had not put him in a position of election, breaking the promise he had given him.
The possibility to become Commissioner was also debated by the European Commission President Jean-Claude Juncker with Kyriakos Mitsotakis, on his recent visit to Brussels before the elections. The current Prime Minister respects Margaritis Schinas and henceforth even earlier his name was heard for the position of Foreign Minister in the newly established government, something which even only as a rumour triggered the reaction of the hard right-wing members of ND, due to his siding with the Prespa Agreement. He himself, however, told his interlocutors that he did not intend to leave Brussels for Greece.
Antonis Samaras in search of a role
Up until two weeks ago, Antonis Samaras was considered a favourite for the position of Commissioner. However, the Messenian politician wanted this to be combined with an important productive portfolio and a position as Vice-President of the Commission, as is often forecasted for former prime ministers. This would have been the case if Manfred Weber, who has a special relationship with Kyriakos Mitsotakis and Antonis Samaras himself, took over the European Commission. The emergence of Ursula von Leyen has changed the plans, as she did not agree with the vice-presidency be given to Greece.
Thus, Antonis Samaras is now looking for a new role, and the information from the government camp says he is gearing up for the presidency of the Republic. The argument of the MPs who support him is that after the Constitution is revised, he will only need 151 votes in order to be elected. The counter-argument is that his relations with the opposition are, to put it mildly, hostile, as he insists he will chase Alexis Tsipras till the end "about the Novartis scheme", while the president of SYRIZA considers him "the most divisive and toxic prime minister of the opposition". Such a proposal from the part of Kyriakos Mitsotakis will result in polarizing the political scene and escalating the confrontation. On the other hand, however, Samaras' supporters do not stop saying that "Kyriakos Mitsotakis owes to him the leadership of ND and the prime ministership"./ibna