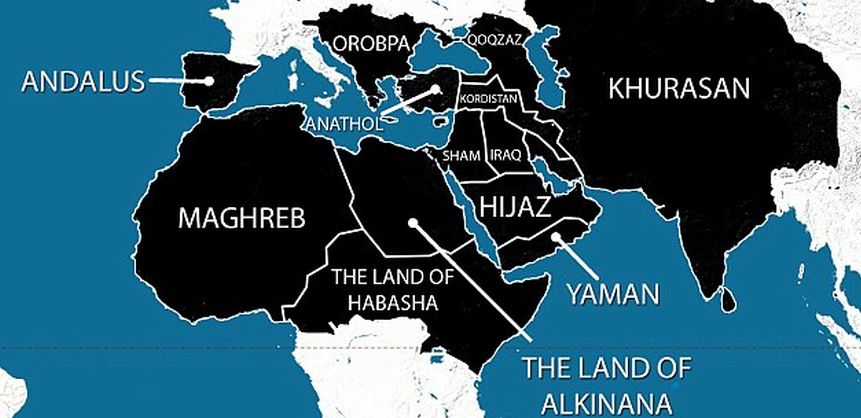 By Mladen Dragojlovic – Sarajevo
A map of the future with "islam countries united in a khalifat", which was published in several media in BiH raised a concern in the country that Bosnian citizens in the so called ISIL forces will, upon return from Iraq, try to persue an agenda and islamize the region.
The fact is that a certain number of members of the Salafi movement from BiH and other countries in region are fighting in Iraq and Syria. In Iraq BiH citizens are members of the radical "Islamic state of Iraq and the Levant" movement and in Syria they are fighting against forces loyal to president Bashar el Assad. Also, it is a fact that, according to unofficial reports, more than 20 of these Bosnian fighters were killed during battles.
The concern about the map in Bosnia is also based on the fact that the majority of islamist fighters from the "El Mujahidin" brigade came to live in the country after the 1992 – 1995 war, being awarded full citizenship. They brought with them the philosophy of salafism and recruit new members from the domestic islamic population. Salafies in the country have formed several settlements, which are so reclusive that  even state police does not have acces.
In addition to all that, islamic extremists in Bosnia, since war ended, have commited several acts of terrorism, including Mevlid Jasarevic's shooting in the US Embasy in Sarajevo, two years ago, and a bomb explosion in front of a police station in Bugojno, resulting in the death of the police officer, Tarik Ljubuskic, four years ago.
ISIL map, allegedly, presents the five year plan of this organization for global islamization, with the leader of ISIL, Abu Bakr al Baghdadi, becoming a "great khalif", ruler of this part of the world. For Bosnian expert in the fight against terrorism, Dzevad Galijasevic, there is no place for these concerns.
"I don't believe that this map is authentic and that it was issued by the ISIL. Right now and in the future, their interest is not so to occupy Balkan countries, but to fight in Iraq and Syria, in order to fulfill their goals in these countries", Galijasevic told IBNA.
He emphasize that it is not realistic to expect an invasion of islamic radicals on the Balkans without strong military forces, which must be extremelly well equiped with military technologies such as fighter jets and tanks. Galijiasevic said that ISIL is very well organized and equiped for fights on a small scale, but not able to expand the fighting to cover the area of the map.
"The map in fact, represents a frivolous attempt from some organisations of the West to see the reaction of the citizens in the Balkans and other countries included in this "khalifat", said Galijasevic.