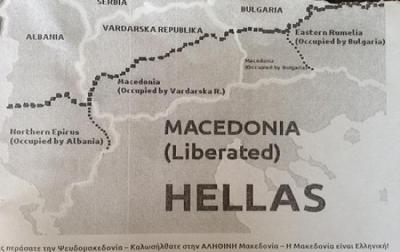 Skopje, July 24, 2013
Portals in FYR Macedonia have shed light upon a map of the Greek ultranationalist party "Golden Dawn" in which FYROM appears divided into several states.
This map has been unveiled during a meeting held by this party in the recent days in the streets of Athens and Thassalonica having FYROM is at the focus of the attention.
Media in FYROM say that the controversial actions of the Greek "Golden Dawn" party continue to shock the public opinion.
The map shows the division of the country, where the majority belongs to Greece, and a part to Serbia, Albania and Bulgaria. /ibna/