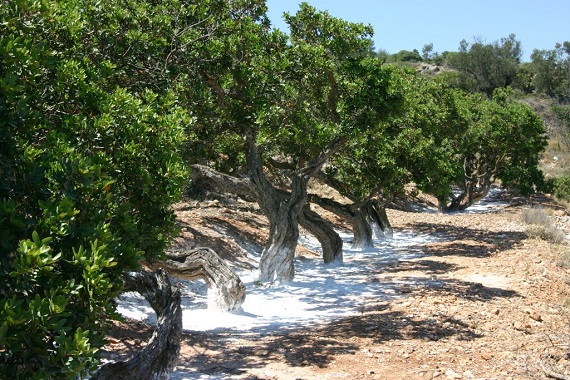 Mastiha Chiou, mastiha gum, mastic gum or simply mastic is a… "flowing gem" of Chios island's earth and a natural product that has made it to the Unesco's Intangible Cultural Heritage List (2014).
The Chios Mastiha Growers Association organized a special event on October 26 at Mykonos Blue in Manhattan in order to make the unique Chios Mastiha better known to the broader community.
The event gave those who attended it the opportunity to learn more about this superb Greek product and sample mouth-watering snacks and dips made with mastiha. There were also signature cocktails to sip such as the Bright White, the Strawberrita, the Cosmopolis and the Ginger Mystique. Needless to say, the fragrant mastiha liquor on its own was also a very popular option.
Apart from food and drink, the attendees were shown a video acquainting them with all the stages of mastiha production, from the trees and harvesting to the industrial process leading to the production of various mastiha products.
Cleaning of the gum crystals
Miltiadis Sarantinidis, Commercial Director and Eleftheria Koinari, Functional Sales Coordinator at Chios Mastiha Growers Association made an interesting presentation of how mastiha is used in many different cultures around the world.
Sarantinidis talked to The National Herald about the amazing cross-cultural versatility of mastiha. He said that  in Turkey, mastiha is used in ice cream and coffee, in Asia for oral hygiene products, including mouthwash, in the United States as a nutritional supplement for gastrointestinal issues, in North Africa it is used for religious purposes, burned as incense, and in the Middle East it is used as a spice and cooking ingredient.
Chios Mastiha is a natural translucent resin obtained from the mastic tree that is indigenous to the island of Chios. Actually, Chios, and more specifically the southern part of the island, is the only place in the world where the mastic tree can grow and more importantly produce its uniquely aromatic resin.
Mastiha is available in a wide range of forms including crystal, oil and gum, powder and capsules and according to research published in many scientific journals, it has a plethora of therapeutic and medicinal properties that are even more remarkable than its extraordinary taste.
Chewing mastiha (gum) has proven to be beneficial for digestion and oral hygiene. Mastiha is a natural antioxidant agent and its essential oil has significant antimicrobial and anti-inflammatory action. It is also said to aid wound healing and contribute to skin regeneration.
The "tears" that become the gum
Mastiha and the cultivation of the mastic tree have a history of 2,500 years. Hippocrates of Kos, the  Greek physician of the Age of Pericles (Classical Greece), and one of the most outstanding figures in the history of medicine, was the first to mention the health benefits resulting from the "tears" of the mastic tree.
(Main) Photo: Dimitrios