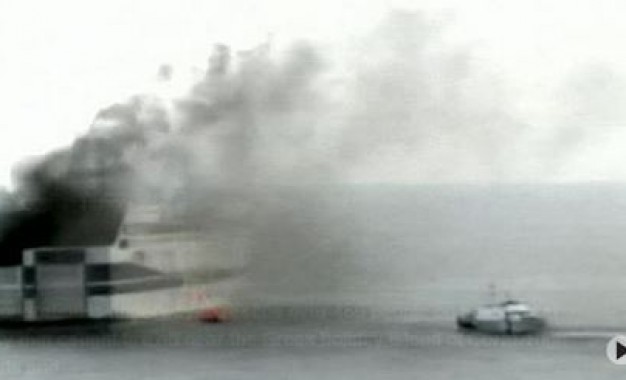 Updated/ Airlift under way for hundreds trapped on burning ferry off Greece
Italian and Greek helicopter crews prepared to work through the night to airlift passengers in pairs off a burning ferry adrift in the Adriatic Sea, battling darkness and bad weather that hampered rescue efforts by other ships throughout Sunday.
Helicopters were plucking passengers off the Italian-flagged Norman Atlantic and transferring them to a nearby vessel, after a dramatic day that began when a fire broke out on its lower deck in the early hours.
A Greek government official said one man had died but there were no other confirmed reports of casualties among almost 500 passengers and crew and as night fell, Greek authorities said 156 people were clear of the danger zone.
An official said 150 people had managed to get off the ship aboard a rescue boat earlier in the day, Reuters report.
After it drifted in fierce winds into Albanian waters, a tugboat was hoping to tow the ferry into Albania's main port of Durres, with another tug helping for part of the journey, Luan Kore, an official from another Albanian port said.
"We are making superhuman efforts in this extremely difficult operation," Greek coastguard spokesman Nikos Lagkadianos said. "Operations by air will continue throughout the night," he said.
A Greek Defence Ministry official said two Italian and two Greek Super Puma helicopters had been deployed, with each air transfer taking around 15 minutes as the pairs of passengers are bundled into a rescue basket and winched up from the vessel.
Earlier, Lagkadianos said the heavy rain that was hampering the rescue had helped contain the fire although the ship was still burning.
Terrified passengers told how they had to move higher and higher in the ship to escape the flames.
"We went to the deck where there were life boats, but at some point we felt the floor burning and we went higher up to the heliport," Rania Fireou told Greek television by phone before the airlifts began.
"There are many children and elderly people aboard," she said. "We have gathered all together and we are trying to warm ourselves."
***
A rescue effort aimed at helping dozens of passengers, including many Greeks, off a ferry stranded in the Adriatic Sea near Corfu was continuing on Sunday night in treacherous conditions.
Merchant Marine Minister Miltiadis Varvitsiotis said on Sunday evening that one Greek had died amid the rescue attempts. Authorities named him as Yiorgos Doulis, a passenger.
Around 165 people had been helped to safety by 7 p.m. Greek time from the Norman Atlantic, which ran into problems in the early hours of the morning when a fire broke out on board. Many of those rescued were airlifted and four Italian and Greek helicopter crews were due to work through the night to continue transferring passengers to safety.
"We are making superhuman efforts in this extremely difficult operation,» Greek coast guard spokesman Nikos Lagkadianos said. «Operations by air will continue throughout the night."
More than 300 passengers and crew remained on board at around 7 p.m. Greek, Italian and Albanian coast guard boats, as well as commercial vessels, were helping in the rescue attempt, which was hampered by gale force winds. A tugboat was due to attempt to tow the 26,900-ton to a nearby port, Ekathimerini report.
The Italian-flagged Norman Atlantic had set sail from the Greek port of Patra and was travelling to Ancona in Italy, via Igoumenitsa in northwestern Greece. Authorities said that of the 478 people on board, 268 were Greek.
The roll-on roll-off ferry had been chartered by Greek ferry company ANEK. According to marine traffic data, it was built in 2009 and previously operated in Italy.
A document made public yesterday suggested that safety checks carried out by port authorities in Patra on December 19 found that some of the vessels safety features were malfunctioning or missing. An ANEK spokesman insisted the ferry had all the necessary safety documentation.