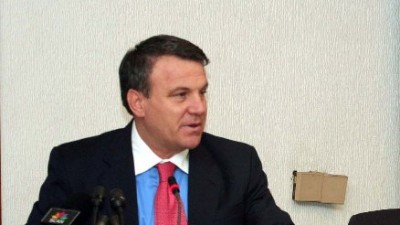 Tirana, May 7, 2013– Arben Malaj, currently an MP but excluded from the SP candidate list for the June 23rd elections, has publicly declared today his commencement of the electoral campaign as an independent candidate.
Supported by the former head of SP, Fatos Nano, Malaj said in a press conference that "he is insisting on the campaign to be based on positive messages."
"The way of supporting the SP is different. I remain a devoted socialist", said the economy expert Malaj, explaining that "taking this decision is a sense of responsibility. Let's make the SP more useful and get rid of neo-dictatorial tendencies in organizing it.
"Let us merge our positive energies to make the SP a winner. We have been united for so many years and will always be with the same commitment. Taking this decision is the responsibility that time will prove. This is not the end for me in politics, as I have decided to run as an independent candidate. I think this will be the end of neo-dictators in politics, highlighted Malaj.
He explained that, "this decision was not encouraged by a personal grudge. I am convinced that I'll pay the price for my constant public reactions. Malaj explained his stances in the socialist group, such as the decision to vote against several bills, the ending of hunger strike, the demand not to boycott parliament. "SP can win the elections based on their advantages and human assets they possess. SP can govern the country differently.
We are not acting out of anger, but a country cannot be made democratic, without the party being made democratic first, said the former finance minister in the socialist government, explaining that according to him, "Rama had taken the decision to exclude him 2 years ago."
Whereas, the former head of SP, Fatos Nano, said "I am surprised with what's happening". "Arben Malaj, an independent candidate, Fatos Nano in support of an independent candidate", he said, calling his support as a "principal commitment."
"I have no ulterior interest, apart from defending principles, standards and commitments based on experience which can encourage the European engagement of Albania. This is a message to encourage everyone to be independent from the clans of the Albanian politics, darkness and the interest based clans which make transparency impossible. We will do everything to maximize the votes of the socialists and our commitment ends here. We will safeguard the principles and standards", said Nano.
Returning in the political arena after several months of absence, Nano urged socialists to vote the true representatives and to stay away from the fake socialist representatives. "Malaj is one of the representatives of the values and contributions of the SP in 22 years. I invite you to vote Malaj and to encourage all your friends to stay away from the fake representatives at the top of Rama's electoral lists", added Nano.
"Rama will be the responsible person if people vote in favor of Arben Malaj and not Koço Kokëdhima", concluded the former Prime Minister, Fatos Nano in his speech to support the independent candidate for parliament, Arben Malaj. /ibna/