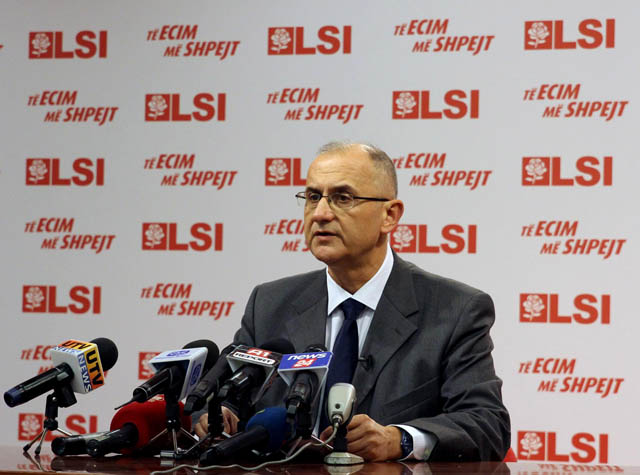 The left sees no reason to change the election law
Tirana, January 8, 2015/Independent Balkan News Agency
In Albania, the majority is engaged to fill the vacancies in the Central Election Commission, following a boycott started in 2013.
The vice chairman of the Socialist Movement for Integration, Petrit Vasili (photo), says that the commission will head toward elections with 7 members, as opposed to four, which it currently has.
The political decision about the names that will fill the vacancies when SP was in opposition, will be taken jointly by allies SP-SMI.
The scope is to hold the June 21, 2015 elections with a filled commission.
"It's without any doubt a partial CEC and its completion is necessary, because the next elections require a serious CEC in order to guarantee good elections. If we kept a Commission like this one, we would damage the standards", says Mr. Vasili.
"Every positioning relating to CEC for the completion of vacancies and other problems that relate to this commission, will be choices coordinated and politically agreed with the majority", said Vasili.
Ahead of the 2013 parliamentary elections, CEC remained with four members out of seven members, because the two members proposed by the SP resigned, while the member proposed by SMI was removed by the then majority.
Now that CEC will be completed, it remains to be seen how cooperation between SP and SMI for the members and heads of 89 commissions of electoral administration will function. Analysts predict a "war" between small parties who will fight to have members in it.
On the other hand, SMI has withdrawn from the demand that it articulated two years ago to change the Electoral Code. While at that time, SMI even started a hunger strike inside of parliament by considering the election law as discriminatory for this party, now this party, the second party of the governing majority, says that the electoral law needs no interventions.
Last year, the majority approved the new administrative and territorial division. The left says that this territorial reform has affected the electoral code very little.
Therefore, the head of SMI parliamentary group, Petrit Vasili says that the elections can be held with the old law.
"Up until yesterday, we had 370 municipalities and communes, while now, we have 61 municipalities. This has facilitated CEC's work, as an institution that determines the application of the election rules. But the fundamental principles of the Code have not been affected. The former communes have become part of a new local unit, without being separated. This is why I believe that in this aspect, it's not a problematic issue", says Vasili. /ibna/.