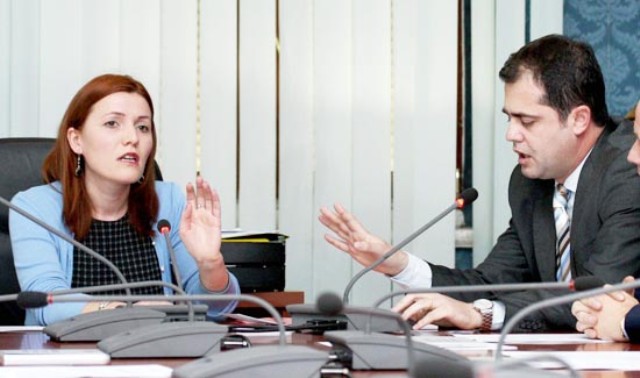 Tirana, 20 November 2015/Independent Balkan News Agency
Government and opposition have joined forced today by coming to an agreement which gives way to the process of decriminalization of politics and public administration.
The representative of the majority in these negotiations was the minister for Government Relations with Parliament, Ermonela Felaj, while the opposition's representative was Oerd Bylykbashki. (photo).
The sides agreed on approving a joint draft on decriminalization.
But, the sides couldn't agree on one thing: the drug test. However, opposition leader, Lulzim Basha warned on Tuesday after the meeting with the US ambassador, that this will not be an obstacle for the approval of the law.
"DP will never withdraw from the drug test, but this doesn't stop the bill to be sent to parliament and to be voted with all other provisions that have been agreed", Basha declared.
Sides have also agreed on a number of other demands made by the Democratic Party, including finger print checks, which the opposition sees as the only way to identify people with a criminal past, who have used several identities.
Once constitutional changes and the respective bill is passed, the effects of the consensus for decriminalization will be immediate.
Thus, mandates will be suspended for MPs, mayors or officials who  have been convicted in the country or abroad, for whom arrest warrants have been issued and who are wanted internationally or who have been deported from criminal offenses.
The process of decriminalization introduces the concept of prohibiting people with criminal records to apply for public offices in the future and this measure will be escalated based on the seriousness of the crime and conviction.  People who have been convicted for serious crimes, will be barred forever.
Since the Socialist Party came in power, the agreement for decriminalization is the only one that the government and opposition have drafted together, brokered once by the European Parliament and once by the US ambassador.
This is the second time after last December that the sides come to an agreement. The only difference is that at that time, the talks were monitored by the international community, while today, the sides have agreed on coming up with a joint bill.
Earlier, both majority and opposition had drafted their bill, each demanding for these bills to be passed in parliament. /ibna/