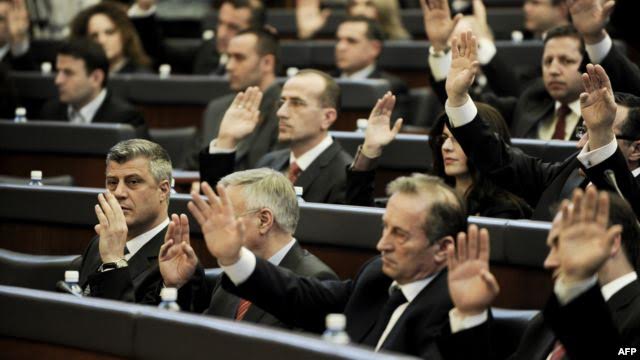 Pristina, 3 June 2015/Independent Balkan News Agency
By Elton Tota
MPs in Kosovo are not clear as to whether there will be further adjournments of the voting of constitutional amendments and the Special Tribunal.
Although it's not known when the creation of the Special Tribunal will go to parliament, the opposition says that it will not vote the tribunal, while the majority supports it, although it claims that this is an injustice being made to Kosovo.
PM Isa Mustafa has given his arguments about the postponement the voting of constitutional amendments in the parliament of Kosovo.
He says that this postponement has come following the interventions of the European Union.
Mustafa has not revealed any details as to what changes have been demanded from the EU, but he said that he has spoken with EU chief of diplomacy, Federica Mogherini on this.
"I have talked with the EU chief of diplomacy on this. She hasn't made any requests, but we agreed that justice cannot be made by anybody and that it has principles that they must be respected", Mustafa said.
The head of the government of Kosovo has asked all MPs to vote in favor of the Special Tribunal.
Adem Grabovci, leader of the parliamentary group of the Democratic Party of Kosovo, said that PDK's stance has been made public and that this party backs the voting of the Special Tribunal.
According to Grabovci, PDK is also committed for an unbiased justice, which is not influenced by anybody.
"We want to know how long will the term of the tribunal be. Another aspect is for the sides to be equal. There must be a fair confrontation of the arguments of the accuser and defendant and for the truth to be revealed once and for all", Grabovci said.
Glauk Konjufca, head of Self Determination parliamentary group, said that being biased is one of the main problems of the Special Tribunal.
He has given assurances that Self Determination will not vote this tribunal, as according to him, this tribunal damages the legal system in Kosovo.
Zafir Berisha, Incentive for Kosovo MP says that their stance is clear. According to him, this tribunal must not be voted by this parliamentary group.
"We cannot vote in favor of an international mechanism which takes over the sovereignty of our state in the justice system. On the other hand, I believe that this court damages the image of Kosovo and this will be our stance until the end", Berisha said. /ibna/