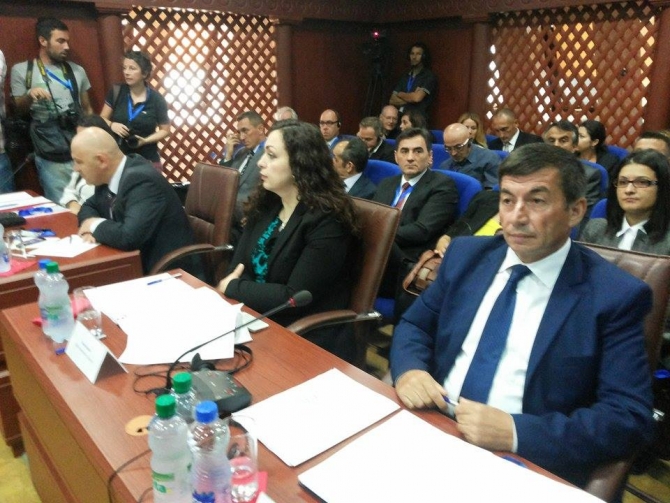 IBNA Special Report
Pristina, August 21, 2014/Independent Balkan News Agency
By Elton Tota
Today (21.08) marked the start of the hearing at the Constitutional Court demanded by the Democratic Party of Kosovo (PDK) in relation to the constitutionality of the election of the speaker of parliament in the first sitting of July 17.
Professor of constitutional law, Arsim Bajrami, who represents PDK, said during this hearing that the agreement reached between opposition parties is anti constitutional.
Bajrami said that PDK objects to three articles of the Constitutional Court, starting from the violations taken place during the session.
"All parliamentary practices have been breached. We believe that there have been two breaches in the preliminary procedure. We object to the decision of the election of the speaker of parliament", declared Bajrami.
Bajrami added that the old steering committee of the parliament of Kosovo has violated the parliament's regulation as it determined parliamentary groups in violation with the rules.
Besides this, according to him, the steering committee has violated the Constitution in determining seats in parliament, favoring a bloc which was determined after the elections.
"We believe that the first parliamentary sitting saw formal and legal violations", said he.
Representative of the opposition bloc, Vjosa Osmani said that Arsim Bajrami is referring to constitutional suppositions and not given articles of the Constitution of Kosovo, while elaborating his request.
She defended the constitutionality of the first parliamentary sitting. According to her, the formation of the parliamentary group can be made after the first sitting.
"The MP has the right to decide of his parliamentary group. The MP mandate has an integrity, under the Constitutional Court", said she.
Representative of Self Determination in this hearing, Albulena Haxhiu said that the first sitting of the parliament of Kosovo went according to all rules.
According to her, PDK's demand doesn't have a legal basis, as all legal instruments have been exhausted before addressing to the Constitutional Court.
Haxhiu has also criticized the Constitutional Court for not quoting the legal basis used to suspend the election of the speaker of parliament.
The Self Determination official said that the Constitutional Court is not authorized to make interpretations of the parliamentary groups or to interpret the parliament's regulation. /ibna/