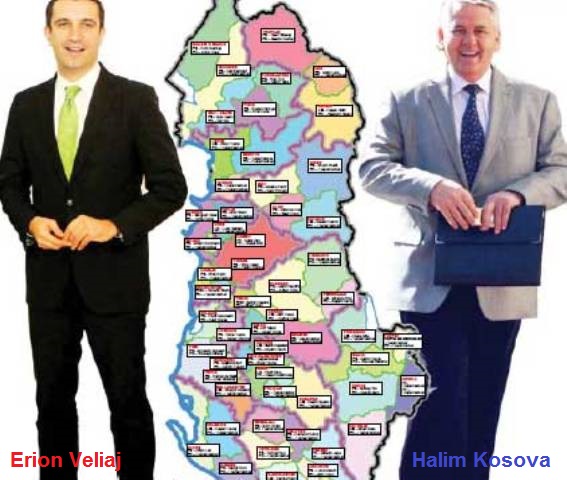 Tirana, April 16, 2015/Independent Balkan News Agency
Governing majority and opposition in Albania announced a few minutes ago at the same time, their official candidates for the mayor of Tirana.
The Socialist Party and Socialist Movement for Integration, along with the governing coalition announced the current Minister of Social Welfare and Youth, Erion Veliaj, as their candidate.
The opposition decided to run the gynecologist, Prof. Dr. Halim Kosova for mayor of Tirana.
The majority's candidate
Erion Veliaj, was born in Tirana on December 17, 1979. In 2003, Veliaj founded the movement "MJAFT" (Enough), an organization that unified the activist and protest spirit of the Albanian youth, which in 2004 received the United Nations Award for civil society. He led the "MJAFT" organization until November 2007. In 2011, Veliaj joined the Socialist Party of Albania as Secretary for Youth and Migration. In the parliamentary elections of 2013 he was elected as a Member of the Albanian Parliament in Gjirokastra. Erion Veliaj has a very good knowledge of English and Italian language, and is fluent in German and French.
The opposition's candidate
Halim Kosova is one of the most prominent gynecologists in Albania. He has been for many years the head of the biggest maternity hospital in the country and he's the owner of a private clinic in Tirana.
In 2013, Dr. Kosova was minister of Health and then an MP for the Democratic Party.
Two different choices
Rama and Basha decided to run two people who they believe to be very popular and liked by the citizens of Tirana.
Rama says that many surveys were held until this decision was taken. According to him, the majority of polls backed the candidacy of Mr Veliaj.
Thus, Mr Rama chose a name from politics to run.
In contrast to Rama, Basha decided to run a name who was less involved in politics. Kosova is known as a new arrival within the DP and he has spoken very little politically. He is not at all been involved in the monstrous accusations that the majority and opposition do not hesitate to launch against each-other on a daily basis.
Meanwhile, Mr Veliaj has often been targeted by the opposition's accusations for different corruption affairs that it claims the minister has been involved in.
Recently, Veliaj has distanced himself from political debates.
Some polls indicate that Veliaj chairs one of the most successful ministries of PM Edi Rama government cabinet. /ibna/