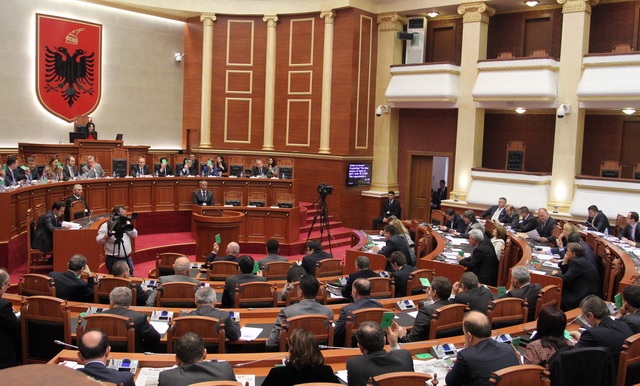 Tirana, 16 April 2013
The Democratic Party's request for discharge of the SMI member of Central Election Commission, Ilirjan Muho was voted around midnight in parliamentary session.
73 majority MPs, including three former SP and 1 former SMI MPs voted in favor of the majority's initiative.
The Socialist Party boycotted the vote.
A 12-hour plenary session full of positions and debates in favor and against Muho's discharge ran from 11:00-23:00.
Until the very last minute, internationals issued statements asking for the majority's withdrawal from the vote.
Moreover, the American Ambassador Alexander Arvizu warned of tensions between the Albanian government and the USA in the case of discharge of SMI member of CEC.
The majority initially notified of a discharge due to SMI joining the opposition coalition led by Edi Rama.
A decree by President Alfred Moisiu, discharging Muho from his duty as prosecutor over violations, was published on Monday. DP said in Parliament that Muho should not have been elected to CEC due to the existence of that decree.
Following Muho's discharge Klement Zguri was voted as the new member of CEC with 73 votes. /ibna/