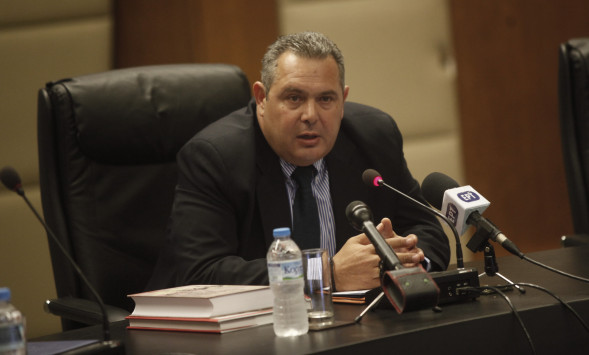 The publisher of weekly newspaper Parapolitika, Yannis Kourtakis, and its Director, Panagiotis Tzenos, appeared before court on Wednesday following their arrest by police on Tuesday night.
Kourtakis and Tzenos were arrested after Greek Defense Minister Panos Kammenos pressed charges for defamation. The Minister claims the two journalists used their radio show in recent weeks to personally attack him and his 15 year-old son. However, according to Kammenos, the issue is much deeper as Tzenos and Kourtakis attempted to blackmail him to withdraw his legal action against them over their connection to the so called KEELPNO (Hellenic Center for Disease Control & Prevention) scandal.
Tzenos' and Kourtakis' lawyers requested their court hearing is adjourned by three days in order for them to prepare their defense. The request was granted. The pair was set free and will stand trial on charges of attempted extortion and defamation.
Accusations
In previous days Tzenos and Kourtakis had allegedly used their show on the radio to attack Kammenos, accusing him of being on a luxury holiday in the Alps over the holiday period where he injured his arm and was rushed back to Greece for surgery. The journalists allegedly made defamatory comments about the minister and his 15 year-old son.
Kammenos told ANT1 television in an interview on Wednesday morning that Tzenos and Kourtakis apparently used their radio show to try to blackmail Kammenos into withdrawing charges against them in relation to the KEELPNO scandal. Kammenos has accused Kourtakis and Tzenos of receiving scandalous payments (843,000 euros and 629,000 euros respectively) from the Hellenic Center for Disease Control & Prevention (KEELPNO).
The ANEL leader took to twitter twice last night to point out the importance of the issue, stressing that Kourtakis and Tzenos attempted to blackmail him in order to avoid conviction over the KEELPNO affair.
Reaction
Parapolitika.gr news portal attacked the government and Kammenos for "effectively ordering the arrest of Tzenos by authorities". The portal said Kourtakis voluntarily showed up at a police station and was subsequently held in custody in order for a trial to stand trial on Wednesday.
Parapolitika.gr complained that as many as 25 policemen raided their headquarters accompanied by a prosecutor in a "junta-like operation" which is "unprecedented for a western democracy". "It is indicative of the government mindset and the fact that it wants to control the media and silence all critical voices" a Parapolitika.gr report notes.
Tzenos and Kourtakis both reacted with lengthy posts on facebook, calling the government a "left-wing junta". "We are not afraid and we will not be blackmailed" they stressed. The pair also attacked other media – without mentioning names – for "distorting the truth and slandering us".
Political parties also reacted strongly to the news.
New Democracy issued an announcement regarding the Kourtakis and Tzenos arrests:
"The arrest of journalists by a government that has shown its aversion to pluralism and polyphony raises serious questions. The Syriza – ANEL government is an enemy of free and independent journalism and news. New Democracy fully trusts Greek Justice that will ultimately have the final say".
PASOK party representative, Pavlos Christidis, said: "The arrest of management member of Parapolitika newspaper over a report about Mr. Kammenos shows the government is declining into autocracy which points to dark ages as far as Democracy is concerned".
To Potami party spokesman Dimitris Tsiodras stated: "We are supposed to be living in a European Greece, not Erdogan's Turkey. Arresting a member of management of a newspaper is reminiscent of autocratic regimes. Syriza-ANEL are once again showing signs of how they perceive the freedom of the press".
Independent MP Harris Theocharis also issued a statement to support Tzenos and Kourtakis. He noted that "the government is playing a very dangerous game. They should know that historically those who become autocratic it turns against them".
Responding to criticism, SYRIZA issued an announcement:
"The law suit by the president of ANEL against Yannis Kourtakis and Panagiotis Tzenos after they attempted on their radio show to connect his child to armed violence, and the proceedings put in motion by competent Authorities, provided the opportunity to parties whose track records are tied to media manipulation to attack the government and Syriza. They are judging us based on their own actions and are imagining interventions in Justice, having used the judicial system and the media themselves in corrupt ways that served their own interests."
ANEL party issued a similar announcement about the incident: "In its rush to act out the role of the main opposition party, New Democracy didn't stop at adopting the views of those who attempt to blackmail by accusing minors. As for some of the other opposition parties, nothing surprises us any more".
The Union of Journalists also reacted by issuing an announcement that condemned the arrests made by police and expressed its concern at the climate that is being cultivated with judicial authorities now intervening in the work of the media./IBNA