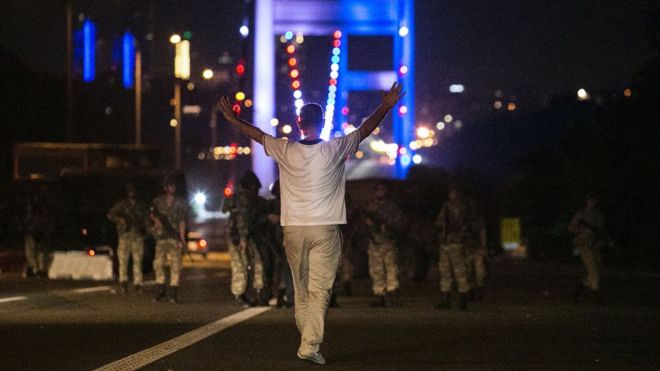 The suspects who attended the first case hearing of the failed 1st July coup are 137 in total, with two more who are not remanded in custody.
The first hearing opened on Monday, at Istanbul's 25th Criminal Court.
The former Bosphorus Bridge which has since (the coup) been renamed the July 15 Martyrs' Bridge, was the deadly spot where two (2) police officers and thirty-two (32) civilians were killed by snipers, gunshots and coup soldiers who opened fire from inside the tanks. The bridge was then renamed in memory of those killed.
The Istanbul Chief Public Prosecutor's Office's Terror and the Organized Crime Investigation Bureau has useful material from that night, such as security camera footage and photos which prosecutors will present in the  indictment, before the court.
"Prosecutors are seeking 37 aggravated life sentences for each of the 143 suspects, including 135 suspects currently remanded in custody", writes the English edition of Turkish "Hurriyet"…/IBNA
Photo: Reuters