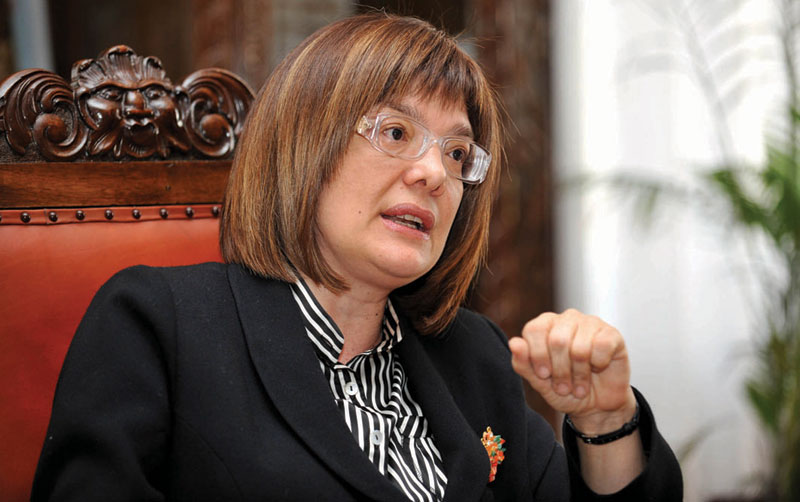 By Milos Mitrovic – Belgrade
Serbian Progressive Party (SNS) candidate Maja Gojkovic has been elected today for the new National Assembly president. In her first speech after the appointment Gojkovic said she would "continue to develop democracy and tolerance". She stressed her intention "to share the responsibility with all people's representatives".
MP's have also elected six vice-presidents and secretary of the Parliament. The election of Gojkovic was supported by 194 MP's out of 250.
On March 16 early elections SNS won overwhelming majority; party leader Aleksandar Vucic is expected to be appointed for Prime Minister on Monday.
Gojkovic, lawyer by profession, stressed that her objectives would be equal to those of her predecessors Slavica Djukic Dejanovic (Socialist Party of Serbia) and Nebojsa Stefanovic (SNS).  Gojkovic (50) is former mayor of Novi Sad, administrative center of Serbian Autonomous Province of Vojvodina. She was MP for years and minister without portfolio during the authoritarian rule of Slobodan Milosevic.
Gojkovic was member of several political parties since democratic changes in 2000, including her own Popular Party. She has started political career together with Vucic in ultra-nationalistic Serbian Radical Party (SRS) led by Vojislav Seselj who is in The Hague Tribunal for the war crimes in Yugoslavia since 2003.
SNS parliamentary committee president Zoran Babic reiterated that new government would be consisted of 16 ministries, the smallest cabinet in years.
"The government will reflect the economic situation in the country and necessary savings", Babic told Beta news agency today.
On Tuesday Aleksandar Vucic was recommended for the Prime Minister post by Serbian President Tomislav Nikolic. Vucic announced earlier that the number of experts would be the members of the new government. He will reveal the names of the candidates on SNS Central Committee session on Friday.