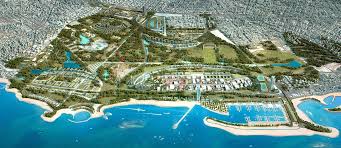 Main opposition New Democracy leader Kyriakos Mitsotakis demanded the firing of the culture ministry general secretary in charge of the archaeological council tasked with reviewing the Elliniko investment.
"Mr. Tsipras should immediately remove the general secretary of the culture ministry, if she means … what he's said about (the) Elliniko (investment)," the ND leader tweeted.
Mitsotakis pointed directly to ministry general secretary Maria Vlazaki, who also chairs the Central Archaeological Council (KAS). Members of the council must issue a decision on an environmental impact study submitted by the consortium developing the Elliniko site. The main opposition party insists that the general secretary has ties to the hard left and therefore strongly opposes the major investment in Elliniko on ideological grounds.
The latest obstacle preventing the project from getting off the ground is a pending ruling on whether or not the entire expanse, or a portion, should be designated as an area of "archaeological interest".
The Greek coalition government is being heavily criticized by parts of the media and opposition parties for apparently not dealing with the issue and jeopardizing the largest investment in the country.
According to local media reports, the government is torn over the Elliniko investment as several top Syriza officials – including Interior Minister Panos Skourletis, MP Nikos Filis and others – oppose the project despite the Prime Minister making it key to his political narrative which focuses on the attraction of major investment to the country.
Tsipras called an emergency meeting on Thursday in order to seek ways to unblock the investment and bypass the reported objections of the Archaeological Council. Reports suggest that the government will insist the Council's opinion is merely advisory and in no way binding. However, it is feared that if the KAS is overlooked in this manner, the issue could be taken to the Council of State, which may take very long to arrive at a ruling.
Greek government officials made clear this week that "a deliberate obstruction that threatens its stated will and determination to conclude the Helliniko investment" will not be tolerated. Asked to comment on the issue, Deputy Prime Minister Yannis Dragasakis reiterated that the Elliniko investment will proceed as planned, "but without institutional procedures sidestepped".
The Central Archaeological Council (KAS) decided after a majority vote in favor of another delay to discuss the project again next Tuesday. Media reports suggest that a final KAS decision has been postponed several times due to pressure from the government as it seeks a solution that will solve the latest impasse./IBNA