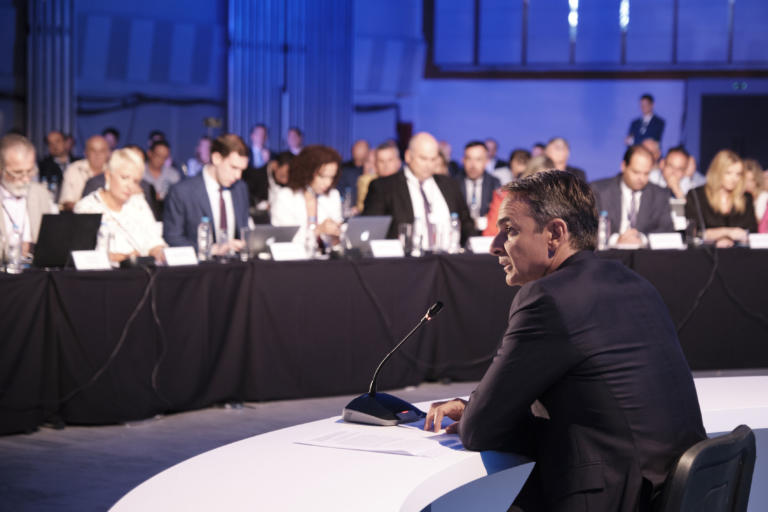 Spearheaded by the non-reduction of primary surplus targets, SYRIZA has launched an assault on the comments in Kyriakos Mitsotakis' speech and press conference at the Thessaloniki International Fair (TIF): "It may bother him, but at some point he has to realize it: the country has come out of the memorandums thanks to the SYRIZA government", the left-wing party says.
The main opposition party says that the Greek prime minister again referred to the surplus reduction in the "indefinite future", accusing him of rejecting the 2.5% reduction that SYRIZA had achieved which "was not a point of negotiation".
At the same time, they point out that he has admitted the cancellation of the abolition of the solidarity levy, the reduction of the tax advance to 50% and the hiring of 10,500 teachers.
In addition, SYRIZA points out that "development for all", which was the central motto of Kyriakos Mitsotakis in Thessaloniki, is "development without rules for the few and the powerful". "The Greece that ND is planning it is a country without rules that the will of the big business interests is state law", the main opposition party states.
They also comment on the fact that Kyriakos Mitsotakis last year as leader of the opposition had strongly criticized the Prespa Agreement, while now that it has come to power ND speaks of its rigorous application. "The recognition of the need for the faithful observance of the Prespa Agreement is not reminiscent of the fiery Macedonian warrior we have come to know with", SYRIZA says.
Alexis Tsipras: They eat from the ready and sweep the state
"The government is eating up what it has found and is scouring the state for loot so far", Alexis Tsipras said in an interview with the newspaper "Efimerida ton Sydakton".
SYRIZA's president accused Kyriakos Mitsotakis that he is only interested in meeting the demands of the Hellenic Association of Industrialists and the IMF in terms of labor relations, concluding that these Memorandum policies are ultimately ND's secret program. "In 2012-15 he justified it with the Memorandum, now he wants to justify it with the surpluses", he said.
He even estimated that Kyriakos Mitsotakis would consider the possibility of early elections, because he would soon be confronted with the contradictions and deadlocks of his policy./ibna