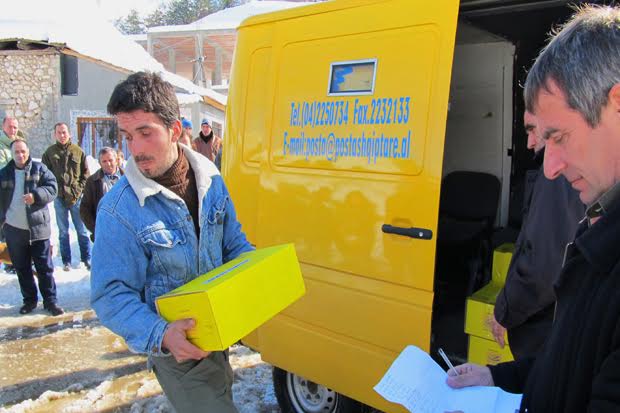 Tirana, 5 May 2016/ Independent Balkan News Agency
Albanians do not use mail services a lot. The average use per resident of mail services in Albania is the lowest one compared to the countries of the region and the European Union.
The Authority of Electronic and Postal Communications (AKEP) says that during 2015, the ratio of mail packages and the population was 7 packages per resident. This figure came out of the information that were submitted to AKEP by Albanian Mail, a state owned company and several private companies offering mail services.
According to AKEP, in 2015, 20 million packages were delivered which in comparison to the population (residents) which is 2.886.026, the ratio is 6.93 packages per resident.
Albania has 995 post offices or a post office for 2900 residents. This means that in the country there's an office for 29 square kilometers.
These figures are far from the EU average. The ratio between mail packages and the population in EU countries varies from 50 to 250 packages per resident.
Many people say that mail services in Albania are not used for absurd reasons. First of all, there's a lack of culture for the use of mail services. The state is responsible for this, because after 25 years from the overthrow of communism, there are still no accurate addresses.
Even when letters or packages come from abroad or from within the country, the address is expressed in a ridiculous form, by linking the destination to the name of a bar, etc.
This is why a telephone number must be provided. When a citizen is expecting a package, he's notified on the phone to withdraw his package from the post office, instead of delivering it at the home or the office address of the recipient. /balkaneu.com/