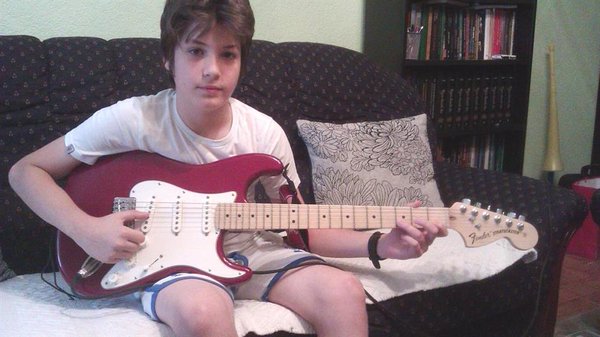 Sarajevo, January 6, 2016/Independent Balkan News Agency
By Mladen Dragojlovic
Three weeks ago, the 14 years old Mahir Rakovac was seating on the stairs on the entrance of building where he lived in Sarajevo. Early in the evening, with the first dark, he went on the eighth floor, burned his school books and jumped into certain death. He was a pupil of International basic school in Sarajevo and victim of bullying from his colleagues, children of the same school.
This case was just another case that filled the crime stories pages in the newspapers, but then Mahir's stepfather, university professor Dubravko Lovrenovic, decided to talk. Mahir's mother, Alisa Mahmutovic, confirmed that her son was exposed to most brutal peer violence, including rape with broomstick, spitting in the face, threats with death… The list is very long in this case. She told the media that, when kids were raping her son in the toilet, two girls were passing by and asked them: "Are you having fun, boys?"
Mahir become a quiet boy and, when his mother asked him will it be good if she go in the school to speak with the professors, he begged her not to do that because "he would have more problems".
As a mother, Alisa is trying to find answers but there is no relevant institution which in this moment is able to give them. Police announced that investigation is ongoing and that the perpetrators will be punished. It is just the usual sentence in all cases of crime but there is no answer on the important question: who will be punished?
According to law, children younger than 14 years are not legally responsible and cannot be prosecuted. In this case, probably, their parents will be put on trial, or the professors, or the school. There is no answer.
The school issued a statement saying that Mahir's parents didn't report that their son was subjected to such behaviour, that their professors are doing their best to prevent similar cases and that it is a rare case in this school. But, a few days later, ex pupil of this school said to the media that he was under similar attacks during his school time. Than another mother reported that her child is still under attacks. Similar cases are reported almost every day.
But, although the names of suspected perpetrators were not announced, social networks are full of lists with their names. Now they are under attacks, threats and similar situations like Mahir. This case, in fact, discovered something what it is vell known in BiH, but there is small number of those who will openly talk about it: the number of peer violence cases in BiH is increasing.
After Mahir committed suicide, many organisations pointed out that the changes in laws which regulate the issues of juvenile delinquency, must be changed. Several organisations think that it is necessary to change existing laws but some advocate the adoption of a new law with sharper sentences in order to prevent cases like this. The name of this law could be called symbolically "Mahir's law".