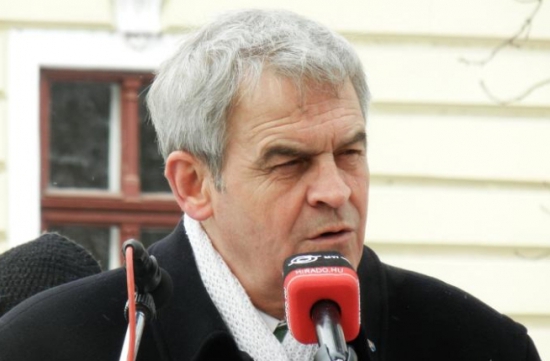 By Daniel Stroe – Bucharest
The Honor Council of the National Order "Star of Romania" has on Wednesday decided to withdraw the homonymous distinction awarded to Laszlo Tokes, a Euro-lawmaker and a leader of a Magyar party which militates for territorial autonomy of the Magyar inhabited areas in central Romania, following a series of controversial statements made by Tokes this summer.
The decision is not legally binding and will be forwarded to the Romanian President Traian Basescu who has the final say concerning withdrawing the National Order "Star of Romania" from Tokes. Basescu had previously hinted he will approve the decision.
The Magyar politician's lawyer warned he would appeal the decision, arguing his client hasn't been given the chance to defend himself. Tokes refused to talk to the council's members and asked instead to be represented by his lawyer which the council rejected as being against the rules.
"This is not a juridical process in which he had to be represented, the member of the Order had to dialogue with the fellow members" said Ionel Haiduc, chairman of the council.
Tokes and his lawyer then walked out of the meeting in protest. "I do not care whether the decoration is withdrawn or not, but I am already disappointed that this is not what I fought for, that after 24 years since the fall of communism I am held responsible for some pretexts and remarks which do not fall within their competences, but represent my freedom of speech" said Tokes, an icon of the 1989 anti-communist revolution in Romania.
He had been awarded the National Order "Star of Romania" by President Basescu in December 2009, 20 years since the start of the bloody anti-communist revolution in Timisoara, where Tokes was a priest at that time.
But in August, Corina Cretu, a social-democrat Euro-lawmaker, filed a complaint against Tokes and asked for the withdrawal of the distinction following a series of controversial statements Tokes had made in July during the Magyar's summer university attended by Hungarian PM Viktor Orban. Tokes had then called on Orban to lay the basis of a national cooperation system which shall offer Transylvania a "protectorate" similar to the Austria ensures for South Tyrol.
Tokes' statements sparked a flurry of criticism and Traian Basescu warned Romania will not host another works of Magyars' summer university, pointing out Hungary has become a regional hotbed of instability. Officials in Budapest have openly supported the quest for territorial autonomy of the Magyars in Romania which has angered Bucharest many times.