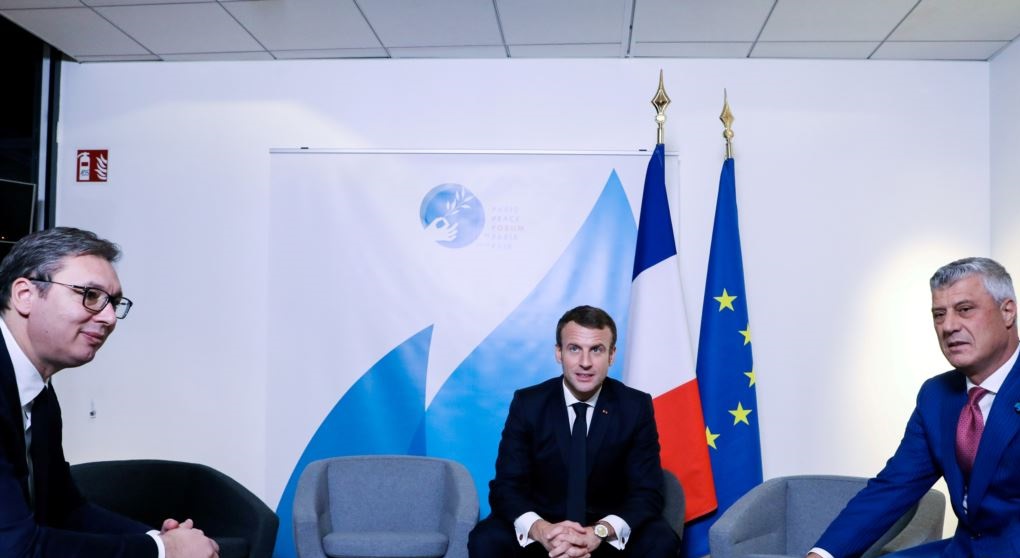 Kosovo president Hashim Thaci met on Tuesday with his Serbian counterpart Aleksandar Vucic in Paris, in a meeting facilitated by French president, Emmanuel Macron.
Thaci said that Kosovo is ready to resume dialogue with Serbia that would lead to an agreement on mutual recognition, the President's Press Service announced. "President Thaci in this meeting confirmed that Kosovo is ready to resume dialogue with Serbia, looking for an agreement of peace, which would bring mutual recognition and Kosovo's membership into the United Nations", the President's Office announced.
Serbian President Aleksandar Vucic reiterated Serbia's demand for Kosovo to lift the 100 per cent tariffs on Serbian goods, as a precondition for the resumption of the talks that have been suspended for a year now.
Thaci and Vucic are in Paris attending the Peace Forum organised by French President Macron.
Diplomats hope the resumption of talks will take place shortly after the formation of the new government in Kosovo, where the process of counting and recounting votes from the October 6 parliamentary elections is still ongoing.
The United States, through special envoys for the Balkans and Kosovo – Serbia talks, Mathew Palmer and Richard Grenell, have made efforts to speed up the process of reaching an agreement between Kosovo and Serbia./ibna