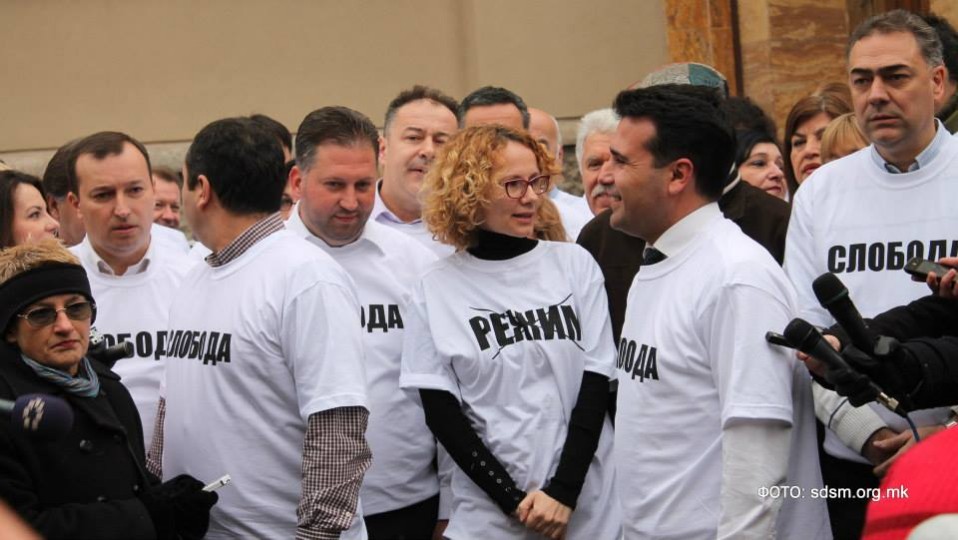 Skopje, December 24, 2013/ Balkan Independent News Agency
MPs from the FYRO Macedonian opposition appeared today in parliament with T-shirts with the word "Freedom" written on them against, what they stressed, the regime of the current prime minister, Nikola Gruevski.
FYRO Macedonian opposition MPs also held a minute of silence in commemoration of the December 24 events of last year, when opposition lawmakers were forcefully  evicted from parliament, as a result of the fact that they blocked the parliamentary proceedings where the 2013 budget was scheduled to be voted.
Opposition stressed today that December 24 commemorates the violence of the regime against the representatives of the people and destruction of democracy, as a year ago, their MPs were forcefully evicted from parliament and then, majority parties, VMRO-DPMNE and BDI voted the 2013 budget.
"On December 24, 2012, the current government violated Constitution and MPs and journalists were evicted by police from the premises of the legislative institution. We must not forget this date in order for it not to be repeated. The black Monday or December 24 were caused by Nikola Gruevski and leader of parliament, Trajko Veljanovski. This is why we ask them to apologize for what they did to their opposition colleagues.
On December 24 of last year, protests were held by opposition in front of parliament and a few hours later, they provoked protests of supporters of parties in power. Police intervention  a few hours later avoided conflict and confrontation between the two sides of the protest", said the head of the parliamentary group of LSDM in opposition, Igor Ivanovski, who along with his colleagues held a minute of silence in order for the December 24 events not to be repeated. MPs also said that they performed this act by turning their back to the speaker of parliament. /ibna/