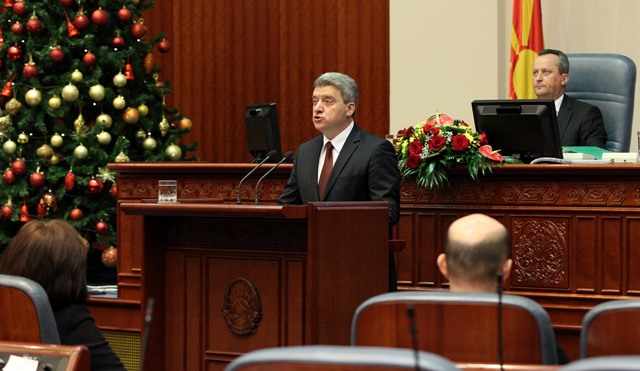 Skopje, December 18, 2014/Independent Balkan News Agency
By Naser Pajaziti
The president of the country, George Ivanov delivered today his annual speech in front of the parliament of FYROM, but he had to do this in a half empty hall, due to the absence of Macedonian opposition MPs, but also MPs of the two Albanian parties, BDI and PDSH.
Macedonian opposition has not recognized the election of president Ivanov, but it has boycotted parliament as a result of not recognizing the latest parliamentary elections.
Meanwhile, the Albanian party, BDI (Democratic Union for Integration), which is part of the governing coalition, doesn't recognize president Ivanov, because the governing coalition party had not taken under consideration the idea for a cross ethnic consensual president nominee in the latest elections.
This has sparked the reaction of president Ivanov, who has criticized such action of the Macedonian opposition and of the two Albanian parties. He said that he's sorry about the absence of the opposition and BDI MPs in parliament.
"With this, they left this hall of democracy empty and they have left their citizens unrepresented", said president Ivanov.
He said that voting is a constitutional right of every citizen, while their representation in parliament is a constitutional obligation for elected MPs.
"I'd like to stress that as a president, seven months ago I invited political leaders, including opposition leader, Zoran Zaev and that of BDI, Ali Ahmeti, to talk about the interests of the state. They have not yet responded to my invitation, which is still open. The refusal of talks about state interests, for me is the manifestation of political irresponsibility. For this reason, I'd like to say to those who are not here today, that political dialogue is not a sign of weakness, but of political maturity", said president Ivanov.
In his address, Ivanov underlined the need for a bigger political responsibility and maturity.
Speaking about the developments in the country, Ivanov added that cross ethnic relations in FYROM still face challenges.
Ivanov also mentioned the obstacles in the European integration aspect caused by neighboring Greece, adding that NATO and EU integration remain the main priorities. /ibna/