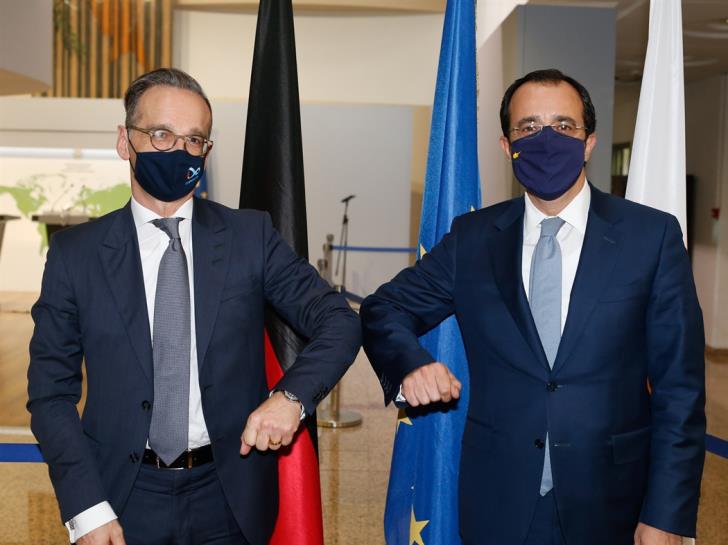 German Foreign Minister Heiko Maas visited Nicosia, where he met with his Cypriot counterpart Nikos Christodoulides.
During their discussion, Heiko Maas noted that "the resolution of the disputed issues in the Eastern Mediterranean can only be achieved through direct dialogue between all parties involved", stressing that "it is now up to Turkey to cultivate those the conditions and the atmosphere so that there is finally the possibility of conducting exploratory talks, without further provocations".
In the joint statements by Christodoulides and Maas, the German Foreign Minister stated that negotiations can be carried out successfully only within a constructive environment, emphasizing that the Turkish side "must finally contribute to this matter". At the same time, he welcomed, as he said, the willingness of the Cypriot Government to continue the efforts for dialogue.
Heiko Maas stressed that Germany and the EU stand in solidarity with Cyprus and Greece. He added that "Germany continues to be willing to support with all its might any effort to find solutions, especially in the framework of the Presidency (of the EU), which we have undertaken this semester".
The German Foreign Minister said that the latest moves by Oruc Reis "in the disputed maritime areas of Kastelorizo ​​are just the opposite of a Confidence Building Measure as we perceive it".
He added that "if this vessel conducts new natural gas explorations in the disputed maritime areas, it will be a really serious blow to the de-escalation efforts in the Eastern Mediterranean by Germany as well, and to the further developments in Euro-Turkish relations".
He added that the opening of the Varosha beach "was a completely unnecessary and provocative step that contradicts the current efforts for defusion, and that is exactly how we interpret this step".
For his part, Nikos Christodoulides underlined that, in the face of what is unacceptably happening in the territory of an EU member state, the European citizens of Cyprus, members of the large European family, look forward to an effective reaction by the EU. He added that "this is the cornerstone of the EU; solidarity and the rule of law".
He noted that "the imposition of sanctions is not an end in itself. What interests us most is not the adoption of sanctions; it is how illegal actions will be dealt with, which no one in the EU disputes in any way".
Nikos Christodoulides also said that the presence of Heiko Maas confirms Germany's interest in the developments in the Eastern Mediterranean and Berlin's effort, "which we particularly welcome and appreciate for the prevailing conditions of security and stability in the region, as well as for the preservation of the EU interests themselves. I want to publicly express gratitude for the interest shown and for the initiative launched by the German side", he added. /ibna