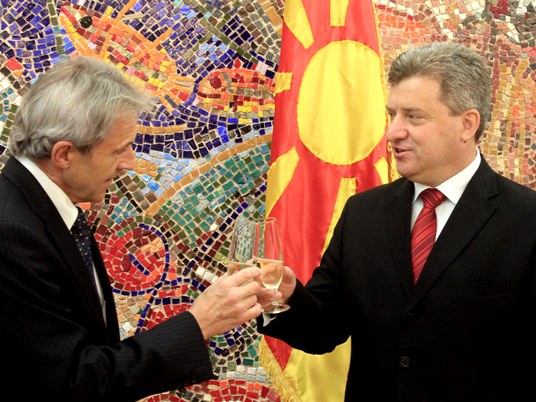 Skopje, February 7, 2014/ Balkan Independent News Agency
Several thousand Euros from the state budget have been spent for the president's clothes and several other thousands for beverages and hygienic products in FYR Macedonia.
This was unveiled through a report published on Friday for media in Skopje, making putting Mr. Ivanov on the focus of attention for luxury expenses.
Data from the Bureau for Public Expenses indicate that for the first half of last year, Mr. Ivanov has spent 4360 Euros on ties.
These ties have been purchased from a company close to the party in power, VMRO-DPMNE.
The information which has been made public indicates that Mr. Ivanov has spent the same amount of money on ties for the first half of 2012 as well. The purchases have been made in the same company.
The same data indicate that president's Ivanov cabinet has paid 11.700 Euros for different hygienic supplies. These supplies have been purchased at "Tineks" shop which is owned by Vladimir Todorovic, former mayor of Center commune, from VMRO-DPMNE.
In the same period, the president's office has spent 6 thousand Euros for food and non alcoholic beverages.
Over 5 thousand Euros have been spent on the purchase of new flags. 24 thousand Euros have been spent on graphic designs and printing. A similar amount has also been paid for publicity and other needs of the work offices, while 5.852 Euros have been spent on printers' accessories. 5 thousand Euros have been spent on 4 laptops. /ibna/