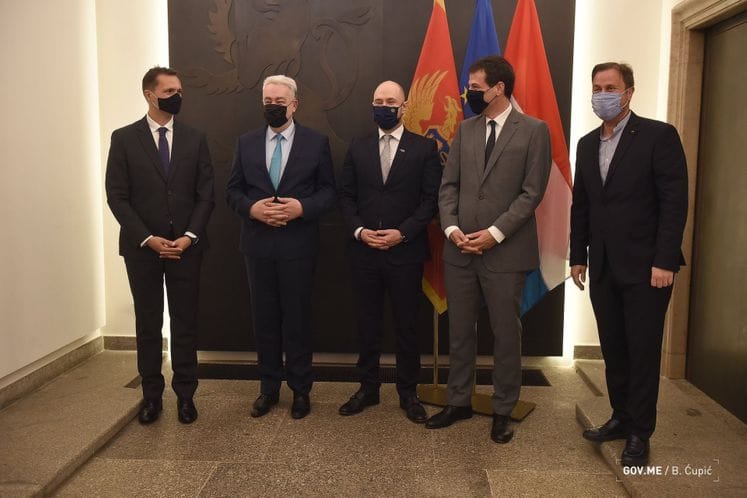 The Prime Minister of Montenegro, Zdravko Krivokapić, met today with the Prime Minister of the Grand Duchy of Luxembourg, Xavier Bettel. Krivokapić is staying in Luxembourg on the occasion of his participation in the Intergovernmental Conference on Montenegro's accession to the European Union.
Prime Minister Krivokapić expressed his satisfaction with the visit to Luxembourg, especially due to the fact that it was organized on the eve of June 23 – the Day of the Grand Duchy of Luxembourg. On behalf of the Government of Montenegro, and on his own behalf, he congratulated the Prime Minister and the citizens of Luxembourg on the national holiday and wished them further progress and prosperity. "Montenegro highly appreciates the experience of Luxembourg, as a model of a successful European state, which is the best example of how a small country can use all economic potentials and EU membership to create a prosperous society," said the Prime Minister.
The Prime Minister of the Grand Duchy of Luxembourg, Xavier Bettel, thanked Krivokapić for the congratulations and expressed satisfaction with the meeting at which he said that Luxembourg is a friend of Montenegro, and that relations between the two countries are constantly being upgraded.
Prime Minister Bettel said that Luxembourg supports Montenegro in the integration process, saying that it will be the first next EU member. He accepted the invitation of Prime Minister Krivokapić to visit Montenegro and proposed that an Agreement on Avoidance of Double Taxation between Montenegro and Luxembourg be signed on that occasion. He said that he would come to Montenegro together with the delegation of the Luxembourg Chamber of Commerce and that the main topic would be the improvement of economic cooperation.
The Prime Minister of Luxembourg expressed satisfaction that, as of April 1, 2021, through the airline Luxair, there is already a direct airline on the route Luxembourg – Podgorica, as well as the line between Luxembourg and Tivat, which started operating on May 15. Prime Minister Bettel pointed out that the representatives of the Montenegrin diaspora are prominent representatives of the Luxembourg society. Bettel also proposed an exchange in the field of education.
The interlocutors exchanged views on the process of Montenegro's accession to the European Union and stressed that maintaining the dynamics of the integration process of the Western Balkan countries is important for the region, but also for Europe.
The Minister of Foreign Affairs of Montenegro, Đorđe Radulović, also attended the meeting./ibna