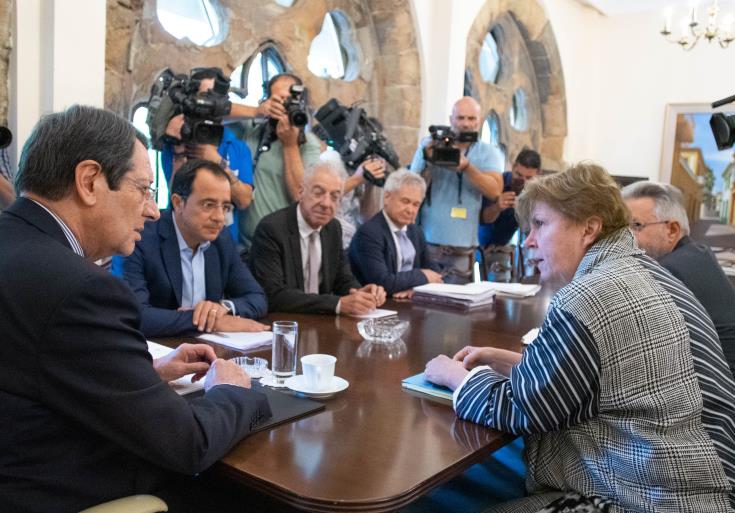 She is expected to hold a new round of contacts with the two leaders on Thursday
By Michalis Michael
A new round of contacts with the two leaders is expected to be held on Thursday by UN Special Envoy Jane Holl Lute, since no positive outcome was achieved today, while efforts to conclude the terms of reference continue intensively. Some small obstruction seems to have appeared in the process of concluding the terms, and therefore the document containing these terms could not be finalized today either.
Miss Lute met with President Anastasiades and with the Turkish-Cypriot leader Mustafa Akinci on Wednesday, for the fourth time in a row. She is expected to continue her meetings with the two leaders tomorrow. A new meeting with President Anastasiades has not yet been requested, but it should be expected that the UN official will not leave the island without at least informing the Cypriot side of what was discussed with Mr. Akinci.
President Anastasiades is scheduled to arrive in Limassol tonight at 20.30, while a few meetings are scheduled for tomorrow. Earlier, Government Spokesman Prodromos Prodromou stated that the procedures were moving forward, and any further developments would be announced.
It has been reported by the media in the occupied territories that the meetings with Miss Lute will go on for a little longer. In particular, the spokesman for the Turkish leader, Barış Burcu, said after today's meeting with Mustafa Akinci that the next meeting with Miss Lute will be announced once it was finalized. /ibna