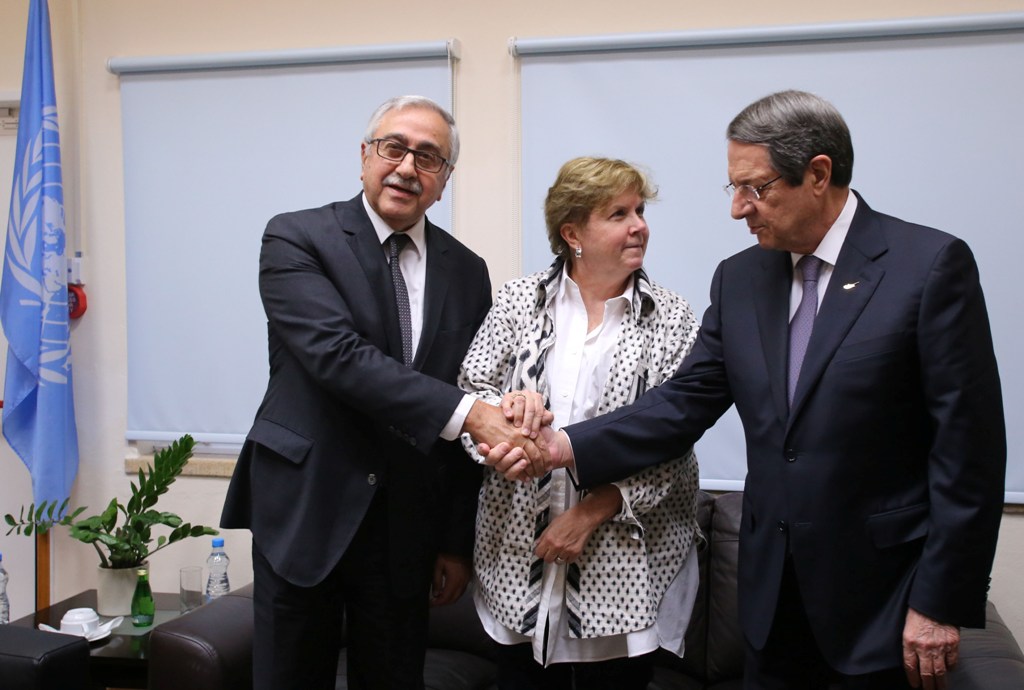 After six separate meetings and a joint one, the envoy made statements for the first time
By Michalis Michael
Without the highly desirable agreement, Jane Lute departs from Cyprus after six meetings with Anastasiades and Akinci and one joint encounter. This occurred despite the fact that they all expected that tonight's informal reception of the UN envoy with the two leaders would complete in the best way possible everything that had been cooked up over  the previous days.
As the Cypriot President himself said at the reception, nothing of substance was said, and it is now up to Miss Lute to continue the process. "There was no discussion during the small reception; just friendly exchanges and jokes, but of also the expression of hope and encouragement on behalf of Miss Lute to continue the effort in the hope of finding something that would cultivate prospects for creative dialogue", he stated. When asked how this effort would continue, the President replied that "it is up to Miss Lute, with the contacts she will have, alongside the guarantor forces to judge or prepare something that forms the base of the terms of reference".
We know for certain that Miss Lute will have meetings with the guarantor powers, but the desirable at the time for the Cyprus issue has not been possible to be realized. The only thing that has changed the scene so far is that, for the first time since her involvement in the Cyprus issue, Miss Lute made a statement to the reporters, while up until now she refrained from doing so. The only thing she commented, though, without going into detail, was that this effort would continue.
Cavusoglu's contacts in the occupied territories on Monday
Turkish Foreign Minister Mevlut Cavusoglu might be arriving tomorrow in the occupied territories, but his official contacts will be held on Monday.
As reported by the occupied territories, according to a statement by the "press and information office", Mr. Cavusoglu will meet with Turkish-Cypriot leader Mustafa Akinci at 10.00 am on Monday, while at 10.35 he will attend a roundtable in the "presidential palace", in which the leaders of the "parliamentary" parties will take part.
On Monday afternoon, he will attend a luncheon in his honor held by the "Minister of Foreign Affairs" Kudret Ozersay, and he will meet with "Prime Minister" Ersin Tatar at 14.30. He will depart from the occupied territories on the same day at 18.15.
No information is provided on Mr. Cavusoglu's program over the weekend in the occupied territories. /ibna