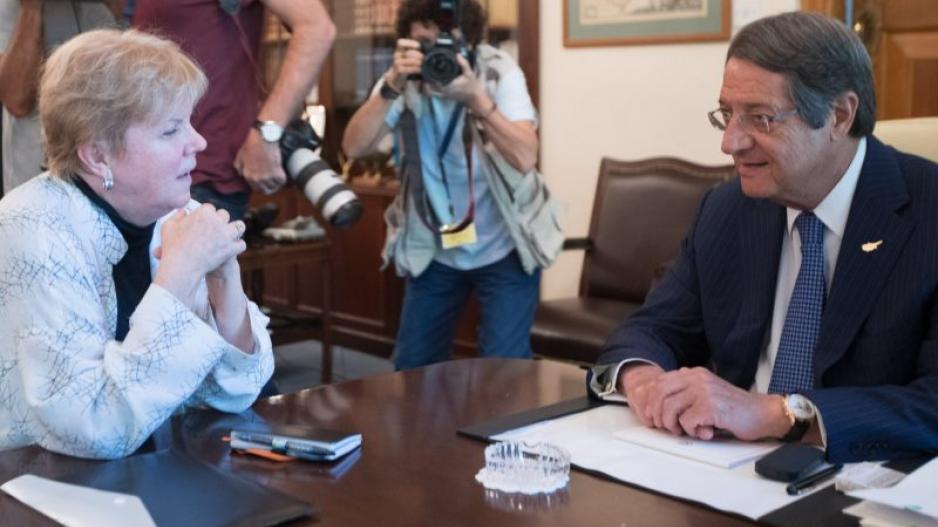 Nicos Anastasiades commented on the elections in Turkey
Michalis Michael
The President of the Republic of Cyprus, Nicos Anastasiades, revealed today that will have a conversation today or tommorrow with the Special Envoy of the United Nations Secretary-General for Cyprus, Jane Hall Lute, expressing hope that Ms. Lute will be in Cyprus within the next ten days.
Invited to say whether the results of the Turkish elections can have an impact on Turkish politics in general, but also on the Cyprus issue, the President of the Republic said that "I have the impression that after the end of every pre-election period there is a rearrangement of thoughts and concerns. Let us hope that the results will also be the reason for avoiding such policies that have been manifesting, albeit verbally, and which in fact constituted a threat to the whole region".
Preparation is unaffected
To the question whether the appointment of Andreas Mavrogiannis as the Permanent Representative of the Republic to the UN may affect the preparation of the Greek Cypriot side, President Anastasiades said "not at all. This has happened in the past. Mr. Mavroyiannis is an experienced diplomat, he has served in the past in the United Nations, has very close relations and possibly his presence there at this time is required as much as ever, without him seizing to also be the negotiator. Let us wish a new dialogue starts and Mr Mavroyiannis will be present at the talks".
It is reminded that the diplomat Andreas Mavroyiannis will remain at the post of negotiator for the Cyprus issue, after his appointment to the permanent delegation of Cyprus to the UN./IBNA