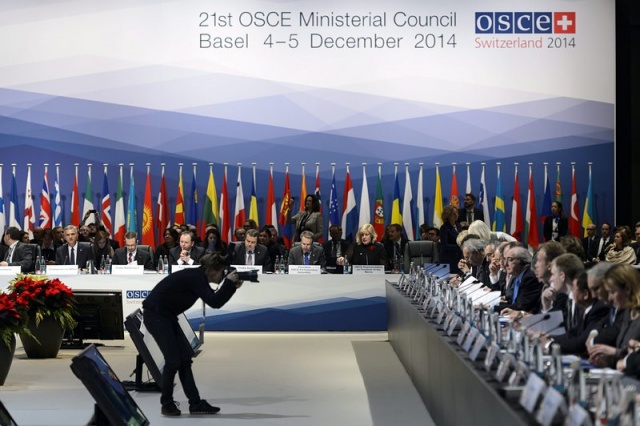 Podgorica, December 5, 2014 / Independent Balkan News Agency
By Adnan Prekic
From the very beginning of the crisis in Ukraine Montenegro advocated a peaceful solution through dialogue and the use of democratic institutions, as well as full respect for the principles of sovereignty, territorial integrity and political independence, said Deputy Prime Minister and Minister of Foreign Affairs and European Integration Igor Luksic at a session of the OSCE Ministerial Council in Basel.
The Council was opened by Minister of Foreign Affairs and Chairman of the Organization Didier Burkhalter. Burkhalter called on OSCE participating States to support the initiatives of the Oganisation for the purpose of de-escalation and stabilisation of the situation in Ukraine, stating the trilateral Contact Group and Special OSCE observer mission in Ukraine.
Luksic said that the OSCE will continue to be one of the key partners on our path of European and Euro-Atlantic integration, particularly in the area of media freedom, the further development of the civil sector and other issues in the field of the human dimension.
The Foreign Minister also said that the OSCE, as one of the important pillars of European security, hired all its capacities in order to prevent deterioration of the security situation in and around Ukraine, seeking to contribute to the restoration of stability in the OSCE region.
Luksic, on behalf of Montenegro, signed amendments to the Agreement on Sub-Regional Arms Control, Article IV, Annex 1-B, the General Framework Agreement for Peace in Bosnia and Herzegovina, by which the Parties have assumed the ownership of the Agreement. "The signing of the amendment represents a new chapter and a significant success when it comes to gun control, and can serve as a model for establishing trust and strengthening peace and stability in post-conflict areas", the statement said.
Deputy Prime Minister Luksic thanked for the excellent organization of the Swiss Chairmanship and wished success to the Republic of Serbia as Chair for 2015. On the margins of the Ministerial Council, Deputy Prime Minister Luksic met with Minister of Foreign Affairs of Hungary Peter Szíjjártó, OSCE Representative on Freedom of the Media Dunja Mijatovic and Director of UNHCR Bureau for Europe Vincent Cochetel.