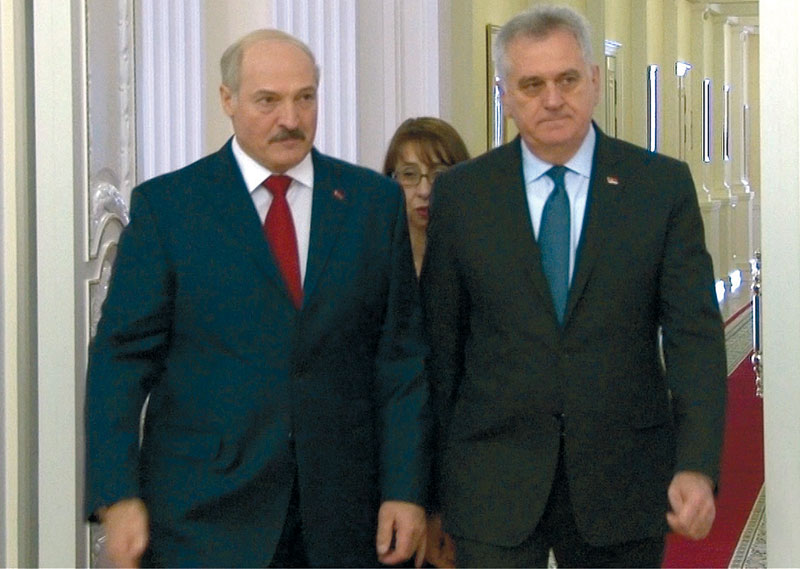 By Milos Mitrovic – Belgrade
Serbian President Tomislav Nikolic met his Belarusian counterpart Alexander Lukashenko, today in Belgrade. Several bilateral agreements have been signed and president Nikolic said Lukashenko is a "true friend of Serbia".
Lukashenko has also visited the Serbian parliament where he met its vice-presidents and MP's who belong to a group affiliated with Belorussia. As reporters have been told, this visit was not planned, but Lukashenko asked if he could come to parliament.
He also visited the Serbian Orthodox Church Patriarchy. Patriarch Irinej decorated the Belarussian president with the Order of Saint Sava of First Degree.
President Nikolic underlined at the press conference that Lukasehnko is a "true friend of Serbia" and his "personal friend"; he added that Lukashenko has always been the first to help Serbia.
"Our two nations are not divided by anything, they can only be united if leaders follow people's wishes and me and you do so", Nikolic told Lukashenko.
Serbian president also said that Serbia and Belorussia are "martyrs" that had survived dramatic temptations. "Two countries were united by difficulties".
"We want to become an EU member state, while you are a member of the Eurasian Union. These unions will never have a better connection between them than the one our countries have", Nikolic concluded.
Lukashenko stressed that Minsk has always supported the territorial integrity of Serbia and that it will continue doing so. He praised the efforts of Serbian leaders to normalize Belgrade's relations with Pristina. "Serbian people will always be our brothers, and Belorussia will always be with Serbia in difficult situations", Lukashenko emphasized.
On the eve of his visit to Belgrade, Lukashenko said that he had offered Serbia aircraft and S 300 surface-to-air missile system in 1990s. "The routes had been defined, along with the Belarusian pilots heroes that were eager to try to land in Serbia. But the problem existed from your side. Mister Milosevic (Slobodan, former Serbian president) did not believe that NATO would undertake such aggression… Afterwards, it was too late", Lukashenko told RTS.