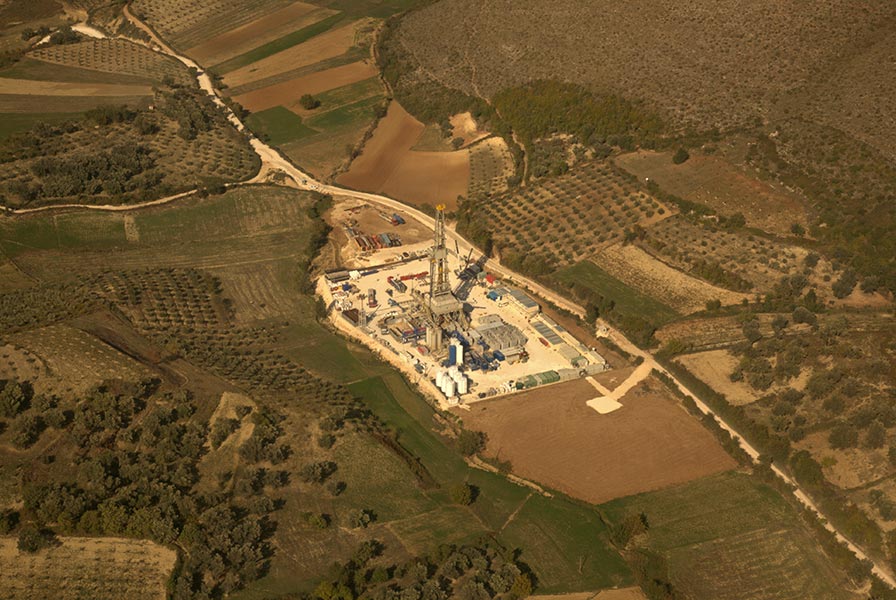 Tirana, February 19, 2014/Independent Balkan News Agency
In the rich hydro carbon area of Molisht-Shpirag near Berat in Albania, Royal Dutch Shell and Petromanas Albania are performing drillings in search of hydro carbons.
The first phase of research has ended, following a 200 million USD investment. The drilling goes up to 3500-4000 meters in depth.
The tests which were carried out discovered significant amounts of oil and gas.
The heads of these drilling operations say that currently, hydro carbon operations have been mainly focused on the area of Molisht 1 (photo) and three other wells are expected to be drilled through an investment of 200 million USD.
Kastriot Bejtaj, vice general director of Petromanas says that the first indicators of the Shpiragu 2 well show a content of hydro-carbons, light oil, of a good quality, 150 tons a day and 50 m3 of gas a day.
Yesterday, prime minister Edi Rama closely inspected the research being carried out and considered the results "very good news for the industry of hydro-carbons and Albanian economy in general".
Minister of Energy and Industry, Damian Gjiknuri, says that with the investments taking place in this block, production of oil in Albania could increase up to 50%.
"Above all, the quality of oil is very good and it can increase production of Albania up to 50%. Taking into account the good quality of this oil, in financial terms, 70% more oil will be exported. The importance of this block, if it's developed like it should do, based on the serious investments of Shell and Petromanas will be very good news for Albania, a growth in production, more incomes for the Albanian state and a very good thing for the industry of oil which makes Albania an important oil country, with the best quality of light oil today in the world", said minister Gjiknuri.
The drillings in this area have started in 2001, with the opening of Shpirag 1 well, which indicated the presence of hydro-carbons in the structure of Shpirag. Both contracting companies, Royal Dutch Shell and Petromanas Albania are listed in international stock markets. /ibna/