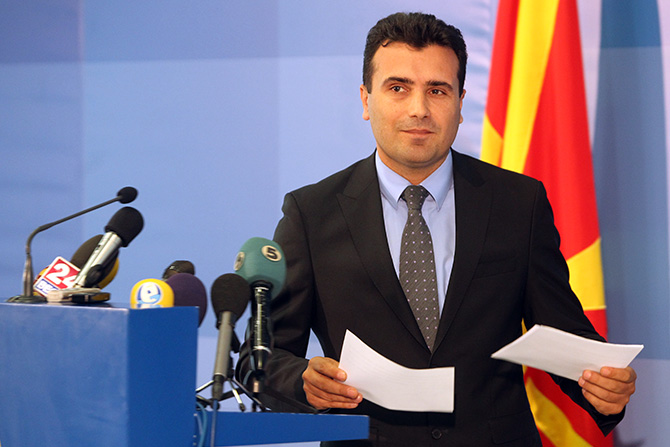 Skopje, April 22, 2014/Independent Balkan News Agency
By Naser Pajaziti
Macedonian opposition party LSDM (Macedonian Social Democratic League) declared today that it has pressed criminal charges against the leader of VMRO-DPMNE and prime minister Nikola Gruevski.
The criminal charge relates to corruption and organized crime on the case of the sale of the "Macedonian Bank"  shares and the acceptance of 1.5 million Euros in cash.
The decision was made public today (22.04) in a news conference by the leader of the biggest opposition party in the country, Zoran Zaev. "When he accepted money in the case of the bank, Gruevski has committed three serious criminal offenses, such as illegal intermediacy, bribery and tax evasion. We are pressing charges at the Prosecution of Skopje on counts of organized crime and corruption. We have also attached the video registration with the voice of prime minister Nikola Gruevski which proves his involvement in this criminal offense", declared the leader of LSDM, Zoran Zaev.
According to him, in 2004, Gruevski had brokered and influenced the majority of "Macedonian Bank" shareholders in order to sell their shares.
"As a shareholder of the bank, he had managed to convince other shareholders to sell 51% of the shares to the Serb businessman Jovica Stefanovic-Nini and for this, the deal was to be rewarded with 1,5 million Euros in cash", declared Zaev, adding that he's expecting effective inquiries from the prosecution.
"Macedonian Bank" which was one of the most stable banks inherited from former Yugoslavia, was privatized in 1999-2000, and one of the shareholders was Nikola Gruevski, who at that time was minister of Finance in the governing coalition of VMRO-DPMNE and Albanian Democratic Party (PDSH). This bank went bankrupt in 2006 when prime minister Gruevski and VMRO-DPMNE were in power.
The opposition has also submitted proofs for the acceptance of the cash, which show the stamp of VMRO-DPMNE and the signature of the former secretary of this party during 2006. Even this case relates to tax evasion. /ibna/
Click here to see the audio-video recording