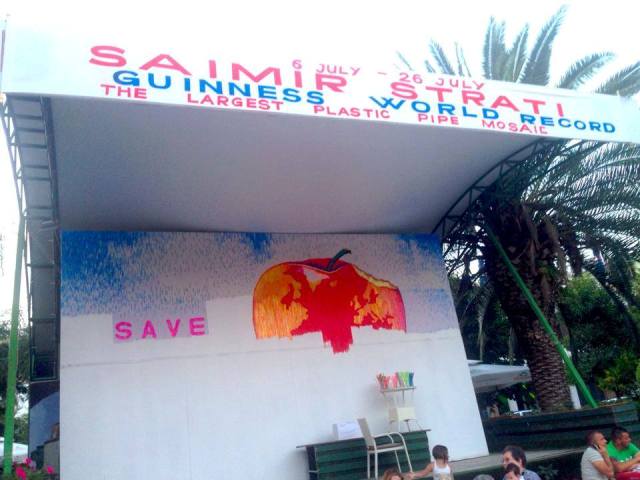 Tirana, July 25, 2014/Independent Balkan News Agency
He's a very special artist and perhaps unique in his kind. For years in a row, his creative works have been very bizarre and he's constantly registered in the record book of Guiness.
The next challenge of Saimir Strati consists on a gigantic work built with recyclable materials only.
The artist says that he wants to send out a message to people to keep the environment clean and protect the planet.
The artist has been working in the past few days to finish his work by using 150 thousand plastic straws, in a surface of 30 square meters.
He's building the biggest mosaic in the world of such category.
The prominent Albanian artist who has recorded several Guiness records, has chosen a special symbol such as Eve's and Adam's sinful apple, but in another concept. The image consists on the bitten apple and inside of it is the entire globe which is drawn, with its beauties and features.
Strati says that the work consists on a technique which has never been used before in the world and a new category within the Guiness records. The work's length is around 20 days and it's expected to be completed during these days.
The work is staying in Fier, where it's expected to be seen by many curious people. But, it can be dismantled in order to be exhibited in other places too. The ceremony of the Guiness award will be held on July 26 in the city of Fier.
Saimir Strati holds seven Guiness for his big mosaics built by using nails, lids, coffee beans, beans, tooth picks, brushes, etc. /ibna/