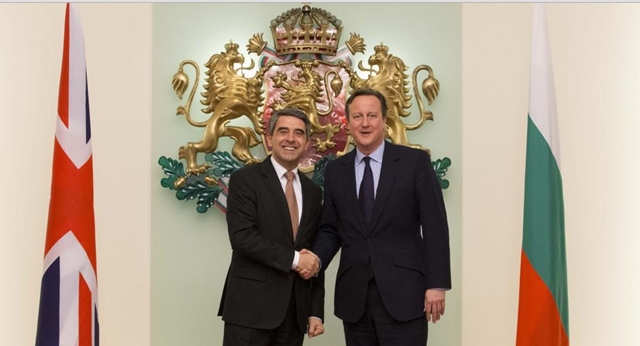 Sofia, December 4, 2015/ Independent Balkan News Agency
By Clive Leviev-Sawyer of The Sofia Globe
It is in the interest of the whole European Union that the United Kingdom remains part of the European project, and everyone would lose if the UK left it, Bulgarian head of state President Rossen Plevneliev told British prime minister David Cameron during talks in Sofia on December 4.
Cameron was in the Bulgarian capital for talks with his Bulgarian counterpart Boiko Borissov, with whom he discussed UK proposals for changes to his country's relationship with the EU and also security and migration issues, and was due on December 5 to visit the Bulgarian-Turkish border.
Cameron, the first UK prime minister to visit Bulgaria in 16 years, said that the UK wanted to be part of a reformed EU that is efficient and competitive. Plevneliev and Cameron called for open and constructive dialogue within the EU, to discuss the UK's reform proposals.
According to a media statement by the Bulgarian President's office, the British prime minister noted that Bulgaria has achieved good results in fiscal discipline, economic growth and strong will for reform.
The general assessment was that the measures and initiatives within the euro zone should not lead to fragmentation of the Single European Market, the President's office said. Plevneliev said that the completion of the Single Market and the integration of services, the digital sector and energy will help to increase growth, create jobs and improve the competitiveness of the European economy in a rapidly globalising world.
He underlined that the EU must not allow deepening of differences in levels of development of individual regions. In this connection, he issued a call for the budget for Cohesion Policy to be left unchanged.
"We must not allow to limit a fundamental right of European citizens, such as freedom of movement and the ability to work within the EU," Plevneliev said. He said it would be contrary to the fundamental principles on which the EU is built and would create a real risk of further deepening of differences among EU countries.
The fight against international terrorism and tackling migration pressure on EU were among the highlights at the meeting. Plevneliev again called on EU countries to address the root causes of conflicts in the Middle East and North Africa, and not to wait for the development of a crisis, to proceed to find a solution.
"Overcoming this crisis requires action by both the EU and cooperation with countries of the conflict," he said.
Plevneliev and Cameron expressed support for the agreement reached between the EU and Turkey to limit the migration pressure on Europe and noted the need to distinguish economic migrants from refugees.
"Bulgaria is a good example of effective control of the external borders of the EU," Cameron said.
Plevneliev emphasised that Bulgaria would continue to guard the external borders of the EU in accordance with EU rules and to register migrants entering Bulgarian territory.