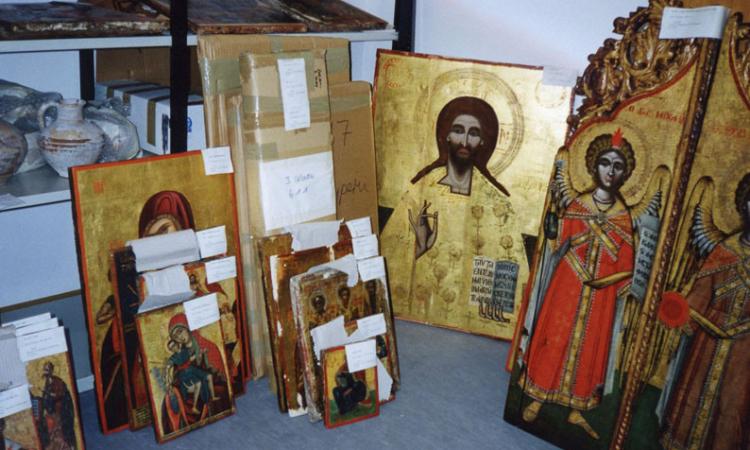 Nicosia, August 28, 2015/ Independent Balkan News Agency
By Kyriacos Kyriacou
The Church of Cyprus has announced that 34 treasures which have been stolen from the island's Turkish occupied areas, are expected to return on Friday afternoon to Cyprus, following a decision by the Munich Court of Appeals, on 16 March, in the case of Turkish art smuggler Aydin Dikmen.
Among them, 24 are Byzantine relics and some prehistoric antiquities coming mostly from the collection of Chr. Chatziprodromou, from Ayios Epiktitos Church. Among the Byzantine relics three pairs of bema doors (Monastery of Antiphonitis Christ, Virgin Mary Monastery in Kantara), wall paintings from the Monastery of Antiphonitis Christ, the church of Agia Solomoni in Coma tou Yialou and the Monastery of Panagia Apsinthiotissa in Sychari stand out. In addition, these include a hand written manuscript of 17th century (omilario) from the Monastery of the Panagia Trooditissa, and the hand written gospel of the Armenian community of Cyprus stolen during the Turkish mutiny in 1963.
In October 2013, 173 relics were repatriated under the same litigation. For the remaining 49 relics, (mostly icons of Russian style and prehistoric antiquities) there are ongoing legal procedures for their recovery and repatriation as soon as possible.
The uncontrolled situation in the Turkish-occupied area of Cyprus after the Turkish invasion in 1974 has fostered the development of a network of dealers in illicit antiquities whose aim was to sell out the cultural heritage of Cyprus. With the encouragement and help of the Turkish army, the trade in illicit antiquities has brought great profit to those involved, and Cypriot treasures already adorn private collections in a number of countries including Turkey, Russia, Switzerland, Holland and the UK, and even as far as the US, Australia and Japan.
More than 500 churches situated in the areas under Turkish occupation since 1974 have been destroyed, plundered and looted or turned into stables, warehouses, restaurants and hotels. The Cyprus government and the church have repeatedly protested to the UN, the World Council of Churches and many other international and religious organisations.