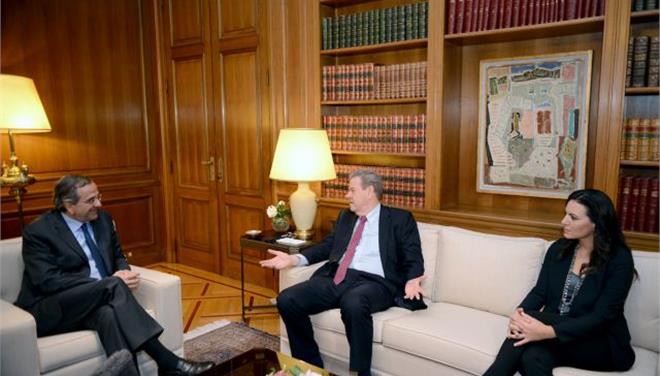 By Spiros Sideris – Athens
Greek Prime Minister Antonis Samaras met yesterday with the head of the travel company TUI and the Tourism minister, Olga Kefalogianni at the Maximos Mansion.
CEO TUI Peter Long described the meeting with the Prime minister as excellent and said that "what the government has achieved with the political stability is very important as there is a very strong and positive financial performance, something which is particularly good for tourism".
He also said it was very good year and that the number of customers of TUI, who visited Greece this year, increased by 10%. "We have a very good and strong relationship with the minister and we see the potential to develop it further. We hope to increase the number of customers by 10% again the next year", he added.
Minister of Tourism, Olga Kefalogianni said that the great success of the Greek tourism is based on the collaborations with big foreign tour operators.
"We are looking to continue the upward trend in 2015. To extend the tourist season and allow other regions of the country to enter the "game" of tourism and give the opportunity for local communities to gain more benefits from it", said Kefalogianni and added: "so we try to find ways for our cooperation to be enriched with other products and opportunities, which will provide more employment opportunities for the Greeks".