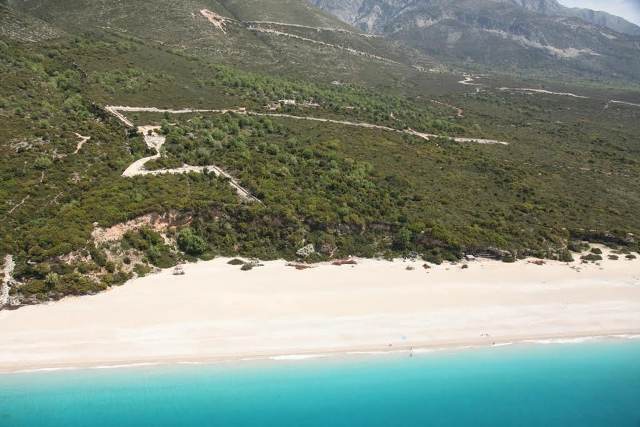 Observation/In the south of Albania, where the pearls of nature are among the best ones in Europe. A coast which is still unexplored, but where tourist services are lacking or do not meet standards. The government sets its eyes on the south and announces Green Coast as a strategic investor, the first one of this kind in the country. Klodiana Ajazi, head of Marketing and Sales at Green Coast, talks to IBNA about the 52 million euro investment which will for the first time bring full tourist  packages in the south of Albania
Tirana, 28 July 2016/Independent Balkan News Agency
By Edison Kurani
Albanian Riviera has always been praised by the most prestigious papers for its natural beauties. Recently, Lonely Planet has considered Palasa as the most beautiful beach in Albania.
Constantly considered as the undiscovered Paradise of the Mediterranean, with an ideal combination between the aqua marine, blue and green, Palasa is recommended as the ideal place to be visited. In the recent years, there has been a rise in the number of visitors, especially in the south, in the Riviera. Although it is sad to admit it, in spite of the great desire that tourists have to spend holidays in Albania, the country doesn't have accommodating capacities and standards in tourism.
The situation that tourists face in each area of the south makes you realize that there's a lack of the concept of tourism, management and services. Under these circumstances, attention goes to the first resort being built there.
Through a 52 million euro investment, Balfin Group is building in Palasa the "Green Coast" resort. This resort is a novelty in the south of Albania. Klodiana Ajazi, head of Marketing and Sales at Green Coast, told IBNA that this resort combines apartment and villas for sale with tourism through services and hotels.
Ajazi says that special attention is being given to the protection of environment and modern infrastructure, something which rarely happens in constructions that are made in Albania.
The government says that it is paying special attention to tourism in the south. Therefore, in yesterday's meeting, it approved the permit for the use of the sea coast and the respective area in order to enable the implementation of the "Green Coast" strategic project in Palasa, near Himara.
Earlier, in  mid July, the Committee for Strategic Investments gave to the resort being built the status of strategic investment.
In fact, Ajazi considers Palasa as a choice of a strategic location. But what's important for them is to increase the level of tourism by offering decent standards. "The holding of tour guides brings a different mentality for entertainment. At last we can move away from wild parties and enjoy adventures with parachutes, canoes, hiking, diving, etc. The south has extraordinary places and we must explore them", Ajazi says.
Another important objective that the Albanian government has, but which has not been achieved yet, is all year round tourism. Ajazi says that this project aims at making the holiday season 12 months long "in contrast to what we have been used to, a two month season".
***
Good news for Albanian tourism is not only what Albanians want to hear, but also foreigners. Experts say that at last, a standard is being built and many Albanians believe that starting from next summer season, there's no more need for them to travel abroad every weekend or holiday season. /balkaneu.com/