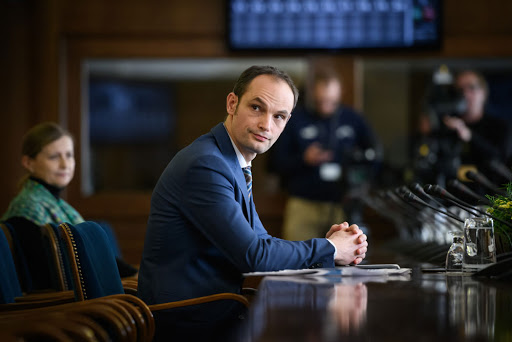 Slovenian Minister of Foreign Affairs Anže Logar said on Monday during the meeting of EU Foreign Ministers that the EU needs to be united in its attitude towards Russia.
EU ministers reached a political agreement to introduce sanctions against the persons responsible for the arrest and prison sentencing of Russian opposition leader Alexei Navalny.
Logar said at the meeting in Brussels that it was important to maintain dialogue with Russia in terms of the content of joint interests, adding that the EU needed to make a strategic reflection in the context of future relations with Russia.
Another major topic was the virtual talks with the new US Secretary of State Antony Blinken, in which the Slovenian minister emphasised the addressing of current global challenges in close trans-Atlantic cooperation.
Logar also highlighted the need to strengthen resilience and cybersecurity, including in the light of the priorities of the Slovenian presidency of the EU Council in the second half of the year, as well as the importance of cooperation in the Western Balkans.
In his address to Slovenian reporters in Brussels afterwards, Logar said that Blinken had expressed the wish for a more active dialogue in the Western Balkans and the belief of the US that all six countries needed to be provided with European prospects while taking into account the strategic aspect.
Before the meeting, Logar and his fellow EU foreign ministers attended a dinner with representatives of the Russian opposition and Navalny's close aide Leonid Volkov, as well as an informal breakfast with International Criminal Court's chief prosecutor Fatou Bensouda.
On the occasion of the session, Logar held a bilateral meeting with his Hungarian counterpart, the Slovenian Foreign Ministry announced. /ibna