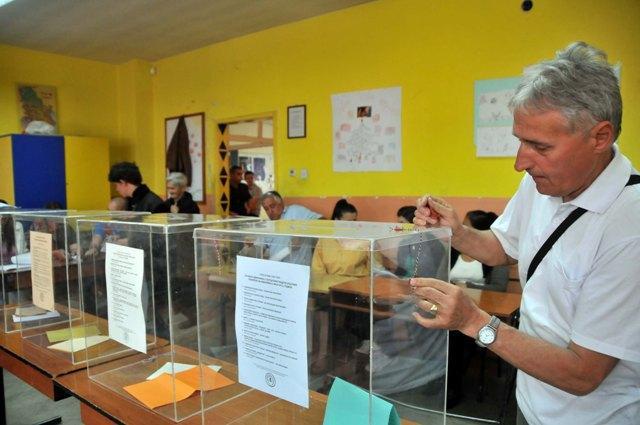 By Milos Mitrovic – Belgrade
Serbian Progressive Party (SNS) of the Deputy Prime Minister Aleksandar Vucic won by a landslide local elections in Belgrade municipality of Zemun on Sunday. The Progressives gained 36 of 57 seats in Zemun Municipality Council. The coalition of parties-led by the Socialist party of Serbia (SPS) of the Prime Minister Ivica Dacic was second, with 8 seats. Political analysts say that the outcome suggests the possible calling of the elections for the Belgrade City Assembly, which is controlled by the Democratic Party (DS) of Belgrade mayor Dragan Djilas.
The results of the Zemun elections also signaled possible calling of general elections. Although the Progressives won the majority in the Parliament in 2012 elections, Ivica Dacic became the Prime Minister, in accordance with the coalition agreement. However, all the polls conducted after the 2012 elections showed that SNS was the most popular Serbian party. At the same time, the Deputy PM and SNS leader Aleksandar Vucic was the most popular politician in Serbia, the polls revealed.
The election results in Zemun showed that people support modern and progressive Serbia, reforms and anti-corruption struggle, Vucic said on Sunday evening. Serbian government's departments for the defense, intelligence and anti-corruption are controlled by Vucic. It is widely considered that Vucic took the major role in arresting businessman Miroslav Miskovic in December 2012. This arresting raised Vucic's popularity.
"We will have to continue to make tough decisions, and to undertake painful measures, but we will pull out Serbia from this crisis. We were told to behave more responsibly then the others, so we need to bring forward the people who are willing to strive for the others, not for themselves only," Vucic said and he added that accomplished work had to become the main criterion.
Even though the Zemun elections were the local ones, the central figure of the pre-election campain of SNS was exactly Aleksandar Vucic. His portrait was on the banners and pamphlets by which SNS invited voters to give their support to the candidates of SNS.
"After the results SNS achieved, the question about legitimacy of the government on different levels has been raised. A logical consequence is to expect the calling of the municipal elections for the Assembly of the City of Belgrade above all, political analyst Dragomir Andjelkovic said for Telegraf.
He anticipated that the Zemun elections would introduce the general elections.
According to the analist Djordje Vukadinovic, the result of the Zemun elections will make an influence on the future political developments. The elections in Zemun, which is a part of Belgrade, had shown mood of the electoral body as well as the power relations on the political scene in Serbia, he added.
The Serbian Progressive Party also won the elections in Kosjeric which took place on May 26th. In the coalition with two smaller parties, it won 15 from 27 seats in the local Assembly.