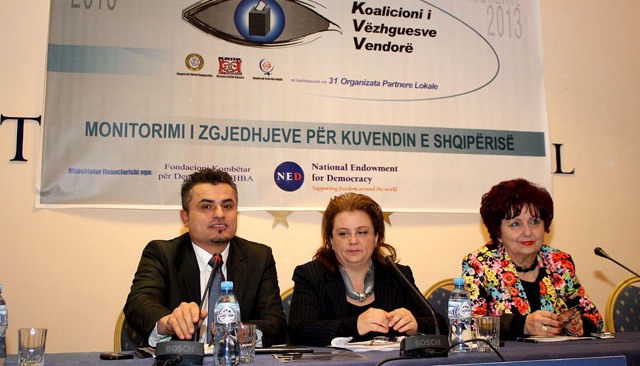 Tirana, May 27, 2013
Coalition of Local Observers published today the second pre electoral report for the monitoring of this process from March 15 until May 22. This independent institution expresses its concern for the situation in the Central Election Commission and points out that this institution must function in full.
"Although the CEC is gathering with 4 members, its activity is not complete. As far as new technologies are concerned, there's been confusion. The CEC has not yet passed the respective acts about the ballot counting groups. Duplications in the electoral lists have not yet been cleared. Gender quotations have not been respected by political parties. Besides using the administration and children in the campaign, there have also been incidents", states amongst other the report read by Gerta Meta.
Coalition of Local Observers also mentioned the fact that the electoral campaign started before the deadline, thus breaching the Electoral Code. According to the report, the electoral process has deficiencies in the legal framework and the correction of information was not made within deadlines.
The Coalition recommends to the CEC to take measures for all political subjects which have not respected the legal framework.
"CEC must pay attention to the acts issued by it before and it must take measures against all electoral subjects which started their electoral campaign before the legal date. It's important for the CEC to take measures about the use of the ballot counting system and use of identity cards. CEC must take measures in training the personnel of poll centers and approve as soon as possible the location of counting ballot centers", concluded the second report of the Coalition of Local Observers. /ibna/