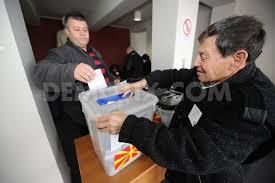 Skopje, April 22, 2013
By Naser Pajaziti
With yesterday voting, FYR Macedonia concludes the third round of local government elections. Political parties are expected to file their complaints in regards to yesterday's voting in four communes" Strugë, Dollnen, Gjorçe Petrov and Center commune of Skopje.
The final results are expected to be issued after yesterday's voting where the Albanian candidate, Ziadin Sela won the elections in Strugë and where Albanians lost the race in the commune of Dollnen, after the victory of the VMRO-DPMNE of Prime Minister Gruevski.
Gruevski's party admitted the defeats in Strugë and Center commune, where the candidate of the FYR Macedonian opposition, Andrej Zhernovski won. The opposition says that it will not file any complaints at the State Electoral Commission, which means that there will soon be an official final result of the elections.
During these elections which OSCE/ODIHR considered as quiet and democratic, but with incidents and small irregularities, the largest number of communes was won by VMRO-DPMNE of Nikola Gruevski, in 58 communes.
BDI of Ali Ahmeti comes second with 14 communes, the FYR Macedonian opposition led by LSDM has won 4 communes, PDSH of Menduh Thaci has won 2 communes, 1 communal seat was won by the SNS Serbian party and two communal seats have been won by independent candidates /ibna/