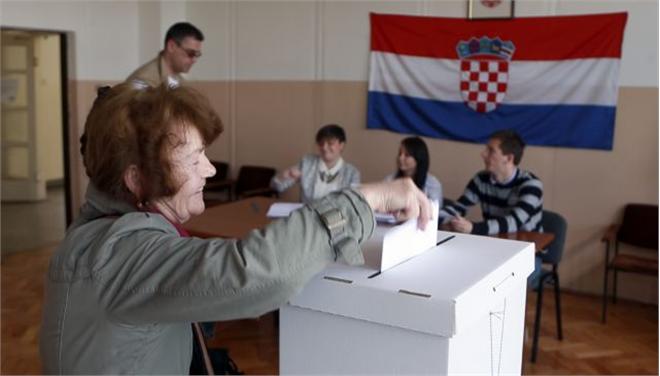 By Natasa Radic – Zagreb
The turnout at the local elections held on May 19th in Croatia was  almost the same like four years ago – 46 percent of voters went to vote on Sunday at the 6500 polling stations and elected municipal mayors and prefects and members of local and regional representative bodies. All together 9.576 persons were elected.
In the race for mayor of Zagreb the voters will have to go to polling stations again on June 2nd – the runoff will show if the current mayor Milan Bandic or his opponent socilademocrat Rajko Ostojic will win. In Split, second biggest Croatian town, a scandalous mayor Zeljko Kerum lost his position. Now the political fight for mayor of Split will be conducted between the SDP (socialdemocrats) member Ivo Baldasar and Vjekoslav Ivanisevic from the opposition HDZ – conservative center right Croatian Democratic Union.
The current mayor of Osijek Kresimir Bubalo won the majority of votes in the first round, but not enough to win immediately so in the second round he will be challanged by the nonpartisan candidate supported by the coalition SDP – HNS – HSU Ivan Vrkic.
The results in the race for mayor of Rijeka are expected – as Rijeka is one of the fortresses of the left in Croatia. The best results were achieved by the current mayor, socialdemocrat Vojko Obersnel, who almost won the required 50 percent plus one vote, but even though he was close, he will have to wait 15 more days until the voters will vote again. That is when he will find out if they chose him or HDZ candidate Hrvoje Buric, a political newcomer.
HDZ won the majority in 12 major cities in the elections for city council and SDP won in six cities, IDS (Istrian Democratic Union) won two cities, while HNS and HDSSB won one city each.
Political analyst Davor Gjenero said to the newsportal Index that the relative winner of the local elections in Croatia is HDZ – Croatian Democratic Union, because they won more councils, municipal governments, mayoral and county mandates. Gjenero pointed out that the larger question is who lost the elections. In his opinion, the main loser of the local elections is Prime Minister Zoran Milanovic.
-The elections were not lost by the ruling coalition, nor the SDP.Milanovic lost the elections. The worst results of the SDP were achieved exactly in the regions where Milanovic directly arbitrated and influenced the way  the party will compete in the elections – in Istria, Dubrovnik and Zagreb – Gjenero says.