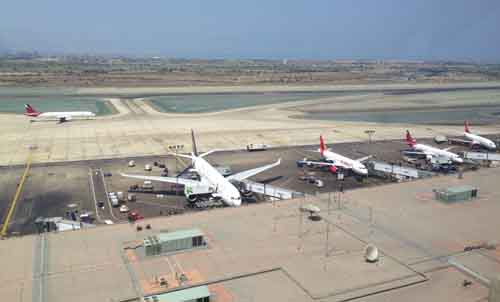 Aerodrom Ljubljana, the manager of the Ljubljana airport which was acquired by Germany's airport operator Fraport in 2014, has been renamed to Fraport Slovenija, the company announced yesterday.
The manager of the Jože Pučnik Ljubljana airport was officially renamed on Wednesday and also got a new corporate image in what is seen as the final step of the company's integration into Fraport Group.
According to Christoph Nanke of Fraport, this is a "strong signal" of Fraport's commitment as a long-term investor. "We're convinced that the company is in for a bright future," he said.
Head of Fraport Slovenija Zmago Skobir said the company was now a member of a "very strong, big group", which united many airports around the world and was becoming a leading airport manager.
The announced expansion of the passenger terminal will prevent congestion due to the growing number of passengers, and will allow for further expansions if necessary, he said.
The project was launched today and should be concluded before the summer season of 2020.
In the first phase, the terminal's capacity will rise from 500 to 1,280 passenger departures per hour.
The number of check-in points will increase to 22, while security checks will be conducted in five lines. The surface for baggage handling will be expanded as well.
After the renovation and expansion the now 13,000-square-metre terminal will measure some 22,000 square metres.
Last year, 1.4 million passengers were recorded at the airport and the number is to increase by 8% this year. The new terminal will enable the processing of up to 3 million passengers.
In the next 30 years, the number of passengers is expected to rise by 3.1% on average./IBNA
Source: The Slovenia Times