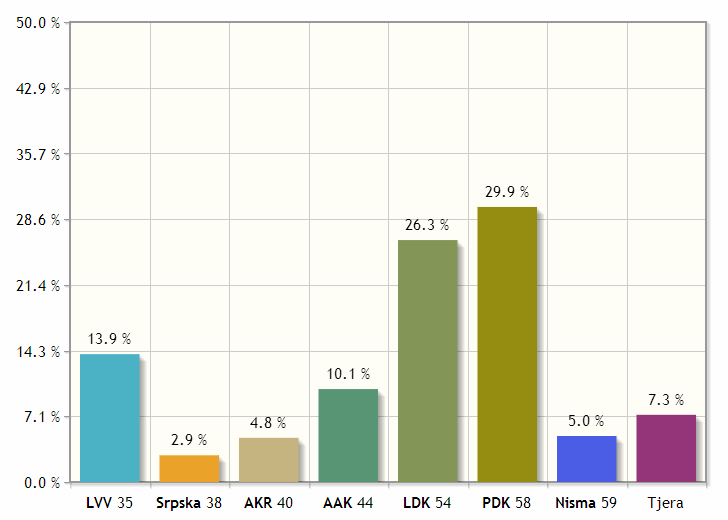 IBNA's report minute after minute/Last update 00:43, Juny 9, 2014

By IBNA's correspondent to Kosovo, Elton Tota
See the official result in real time / See the result in real time from Democracy in Action
With 50% of total ballots counted, these are the results of the Central Election Commission:
PDK: 29.87%
LDK: 26.45%
Self Determination: 12.36%
AAK: 10.23%
INCENTIVE: 6.12%
Lista Srpska: 3.97%
AKR: 4.08%
Exit poll, PDK of Premier Thaci wins elections in Kosovo
Center for Social Studies "Gani Bobi" has published the results of the "Exit Polls" for today's elections. Based on these results, PDK has been announced a winner of these elections.
According to the exit poll, LDK results the main opposition party with 3% less.
The exit poll carried out today in the territory of Kosovo by "Gani Bobi" survey institute, identifies another three parties, which are Self Determination, a nationalist party which criticizes all other political forces in Kosovo and which according to the exit poll, has received a 15% support, party of former prime minister Ramush Haradinaj which has received 9% support while AKR of deputy prime minister Behxhet Pacolli, a prominent millionaire businessman, has received 3% support.
LDK reacts: The survey was ordered and paid for by PDK, we've achieved a big victory
"Democratic League of Kosovo (LDK) condemned the recent attempt of the Democratic Party of Kosovo (PDK) and considers the ordered and paid for exit poll as its last attempt to escape from the great defeat conceded on Sunday election.
Through this paid exit poll, PDK is trying to discourage commissioners of other parties to manipulate the elections.
LDK invites all citizens of Kosovo to be patient and wait for the results to be announced, because information on field and from our commissioners indicate our convincing victory in these elections.
The results that LDK has so far shown that we've achieved a bigger victory than we expected.
We inform the citizens of Kosovo that the organization which has held the survey was mistaken by 14% in the election result in Albania. This organization, behind which is Petrit Selimi, is trying to declare Thaci a winner, at least for a few more minutes.
But the truth is in the ballot boxes and those which have already been counted and which show that the citizens have decided to elect another government, led by LDK and which will never attempt to change the will of the people.
The results published by "Gani Bobi" institute on the exit polls for Sunday election:
PDK of premier Hashim Thaci 33.1%
LDK of Isa Mustafa 30.4%
Self Determination of Albin Kurti 15.2%
AAK of Ramush Haradinaj 9.1%
Incentive for Kosovo 5%
AKR of Behxhet Pacolli 3%
Other 3%
The survey also contained other questions, such as how did voters consider the process. 94.% of respondents have considered it as positive, 4.2% have considered it as "so-so" and only 1% as bad.
"Sometimes we had it right, sometimes no", said analyst Shkelzen Maliqi, head of this institute while he announced the results.
This is the fifth exit poll of "Gani Bobi" institute. /ibna/
Polling stations close, CEC: Turnout was 43%
All polling stations have closed at 7 pm today in Kosovo, where early parliamentary elections were held. Although there were some irregularities, this process was considered to be a good one.
Central Election Commission has published in its webpage the turnout of voters until the closing of polling stations.
"Turnout of voters has been 43,50 percent", says the CEC in its official page.
Chairwoman of the Central Election Commission, Valdete Daka declared the elections went well and that there were no problems.
"I'm happy to say that so far, the process has gone well and we've had no problems".
Kosovo holds early parliamentary election
Daka said that around midnight, CEC may issue the results of the elections for the political parties, while the results for the candidates will be issued later.
"As far as results for political parties are concerned, we will have them around midnight, meanwhile the ones for the candidates will have to wait until Monday, because more time is required", declared she. /ibna/

Jacobson: The elections went well, be careful with the counting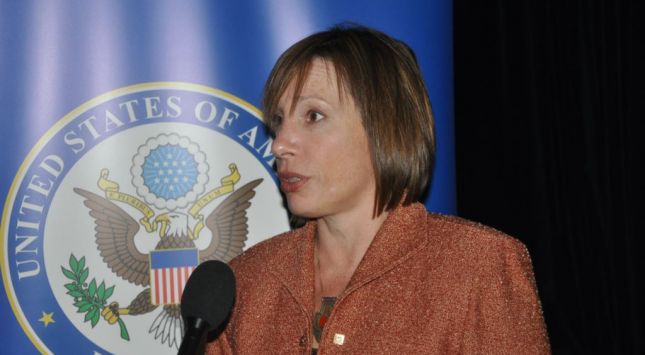 US ambassador to Kosovo, Tracey Ann Jacobson has commended the way that Kosovars have voted in the hours of the afternoon and hoped for a big turnout at the end of the day. But she also demanded a responsible behavior from the people responsible to count the ballots.
After visiting a polling station in "Hamdi Berisha" high school in Malisheva, Jacobson said that she hoped for a higher participation, while she has advised ballot counters to be "responsible".
"We have traveled all around the country today. So far, everything seems quiet and many people are coming to vote", said Jacobson before polling centers closed.
"We will see how things will go, but so far I'd say that they're going well. We hope to see a big turnout and a responsible behavior from counters", said the US ambassador, Tracey Ann Jacobson. /ibna/
***
Central Election Commission declared that until 4 am, 451 thousand and 895 voters or 25.35% of the total number have turned out in the early parliamentary elections in the Republic of Kosovo.
Chairwoman of CEC, Valdete Daka said that based on the information from the Electoral Communal Commissions in 38 communes of the Republic of Kosovo, the voting process is normal.
To follow in real time the turnout of voters issued by official sources of the Electoral Communal Commissions, click here.
Irregularities in the elections are reported
"Democracy in Action" coalition has reported several irregularities in the electoral process, which "are against the Law on general elections in Kosovo and the best electoral practices".
Driton Selmanaj, representative of Democracy in Action Coalition said that in several polling stations, political parties' monitors are staying in the corridors of these stations, "putting pressure on voters as to who to vote for".
Meanwhile, the Coalition has reported 3531 cases of minor irregularities.
During the day, a number of problems were also reported with the voters' lists where more than one thousand people could not find their name on the list.
In over 20 cases, the ballot paper was photographed. The fact was confirmed by Driton Selmanaj, representative of the Democracy in Action Coalition. He said that 8 cases at once were identified in a polling center in Ferizaj.
Problems have also been encountered among disabled people and visually impaired people.
Several arrests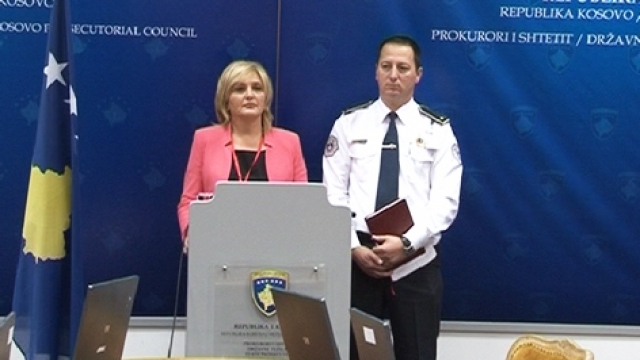 Eight people were arrested today for irregularities in the elections. National Coordinator Against Corruption, Laura Pula said that several people were denounced to have voted more than once. Although these cases were submitted to OSCE, no criminal charges were brought. /ibna/
First irregularities registered in the electoral process
More: