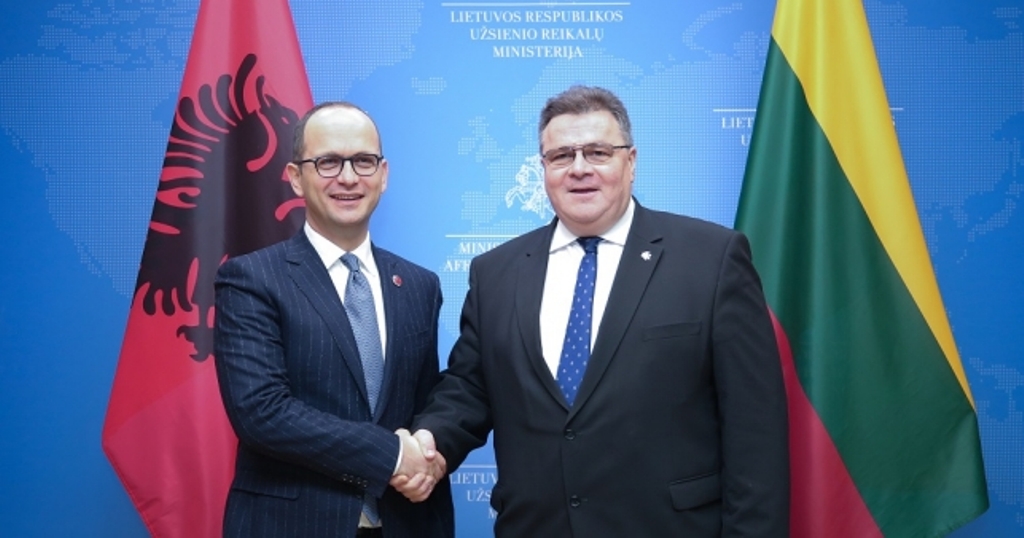 Minister for Europe and Foreign Affairs, Ditmir Bushati, is holding an official visit to Lithuania, as part of a regional tour in the Baltic countries.
During the meeting with Minister of Foreign Affairs of the Republic of Lithuania, Linas Linkevičius, Minister Bushati discussed the cooperation that exists between the two countries and the importance of revitalizing economic cooperation.
Ministers paid special attention to the European integration process, the transformational impact of enlargement policies in the Balkan region, including its security. Minister Bushati informed his colleague about the progress of the reform process in Albania, focusing on the justice reform and the measures undertaken by the Albanian Government in meeting the five key priorities in the integration process, focusing on opening of membership negotiations. Minister Linkevicius confirmed Lithuania's support for a positive decision to open negotiations with Albania for EU membership this year.
Ministers discussed the situation in the region. Minister Linkevicius praised the constructive role of Albania in the Western Balkans region as a constant factor for stability and regional cooperation.
In addition, Minister Bushati also held a meeting with members of the Committee on Foreign Affairs, the Committee on European Affairs and members of the Group for Inter-parliamentary Relations with the Western Balkan Countries in the Lithuanian Parliament. During the meeting, Bushati informed the Lithuanian MPs about Albania's progress in the European integration process and expectations in this context. Lithuanian MPs praised the progress in addressing key priorities, and shared the view on the importance of enlargement not only for developing aspirant countries but also for strengthening the Union's security in general. /balkaneu.com/