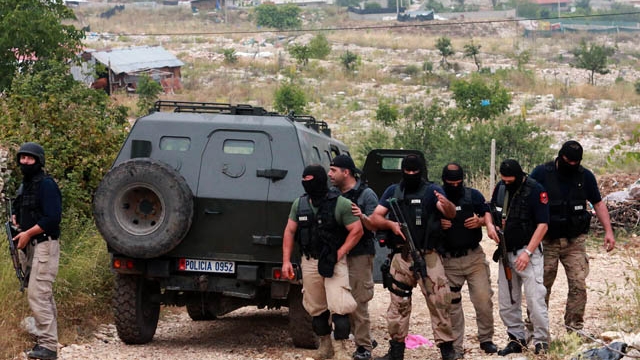 Tirana, 25 June 2015/Independent Balkan News Agency
By Edison Kurani
State Police in Albania has published a list with 21 people suspected of the murder of a police officer and the injury of two others yesterday in the village of Lazarat.
The list includes young men from this village, who have been identified by police as problematic a year ago, when police held an operation to tackle the cultivation and trafficking of marijuana in Lazarat.
On Thursday morning, police said that they have arrested 14 out of 21 people who were on the list.
Police list followed the voluntary surrendering of the majority of suspects declared wanted and the arrest of several others.
Some of those who surrendered decided to turn themselves in as they have no connection whatsoever with the murder. Testimonies have also been given by their parents.
Meanwhile, seven other people are still at large. To capture them, the village of Lazarat continues to be surrounded by 400 special forces equipped with heavy armament, patrolling in armored vehicles, thus creating a scary atmosphere in the village near the Greek border.
Lazarat has been surrounded from all sides and police forces have entered the village from Sopot mountain. Two army helicopters have also been dispatched to help with the operation.
During the night, police raided the houses of the suspects.
Searches are taking place in the entire area, where the "21" group is suspected to be hiding. /ibna/