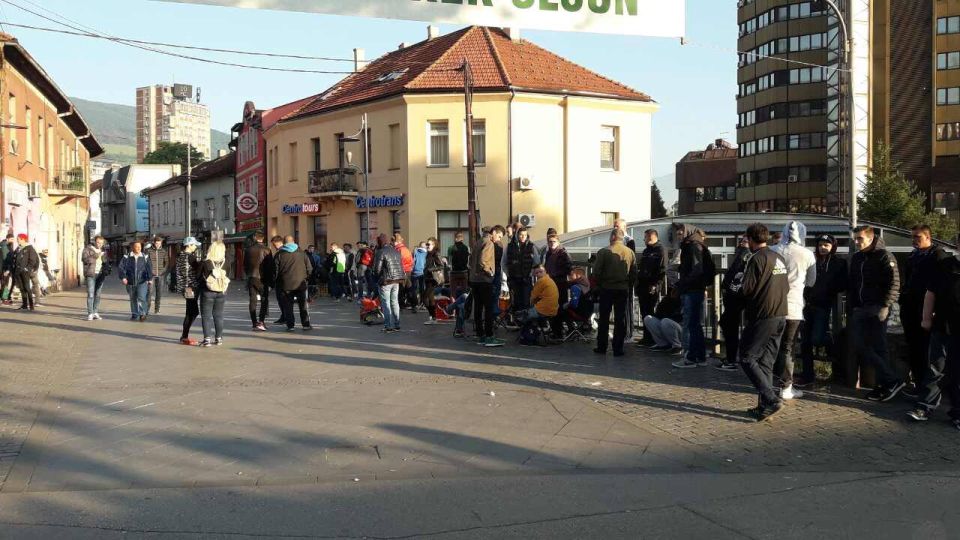 Bosnia and Herzegovina and Greece national football teams will play the World Championship in Russia qualification game at June 9 in Zenica and the tickets are on sale as of today May 29.
Interest of fans for this, for both teams, important game is huge and exceeds the expectations of organizers. BiH team, nicknamed "Dragons", are expecting the important game since Greece is second in the qualification group. BiH national team is in third place of the Group, which is led by Belgium with 13 points. Greece has 11 points and BiH just one point less.
The interest for the game is so huge that many fans came in Zenica on Sunday afternoon to form a line in the front of the office where they will buy tickets. They came from the entire country in Zenica to reserve their place on "Bilino Polje" stadium. There is a similar situation in Sarajevo and other cities where official ticket seller "Centrotrans" have offices. Many of them are optimistic about the game.
"We have been here since last night, we greeted the morning. In the line are fans from Sarajevo, Travnik and even from Sanski Most. Some arrived early this morning, around 4am and are still waiting for tickets. Of course, we expect a good game and to win", said the supporters of "Dragons".
The offices in Zenica are also crowded, with the fans forming a cue during the night in an attempt to purchace a ticket. Many citizens of Zenica and other places near this city came in the line on Monday early in the morning. Before the sale started, about 200 fans were in line. Some of them were nervous since several persons didn't respect the line and police noted smaller verbal incidents.
Disablaed war veterans have a priority in the cue and one of them, Amir Halilovic, was very dissatisfied with the organization.
"We are waiting in line for tickets for such a long time, this is a shame. However, we are thinking about our team and we hope to win. I think we'll win all three points with goals from Edin Dzeko and Miralem Pjanic", Halilovic said for BiH media.
The best BiH players will gather on Thursday, June 1, to begin preparations for this important game. State team selector, Mehmed Bazdarevic, already have several problems to form the team. He was informed that Dejan Milicevic, a regular starter for  Belgian "Gent", has sustained an injury and will not be able to play in Zenica.
"I spoke with Milicevic and I regret to say that we cannot count on him. I think that he is a player who could make a difference in the game, or even a surprise", Bazdarevic commented on this information.
More than 10 000 tickets are on sale and the prices are 40 BAM (20 Euro) for the West stand, 30 BAM (15 Euro) for the East stand and 20 BAM (10 Euro) for the North and South stands./IBNA