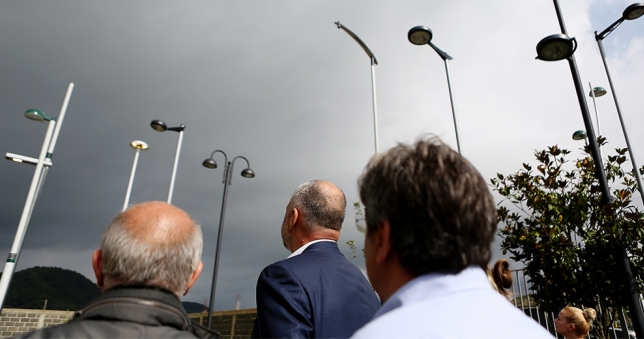 Tirana, September 24, 2014/Independent Balkan News Agency
A new street lighting technology has been introduced for the first time in Albania. This system has started to be introduced in the secondary road linking Tirana to Durres.
The system in question is the photovoltaic system. This system is independent for several days even at times of rain. Experts say that by introducing this technology, Albania makes a general choice, because Europe too has started to introduce this technology (photo) and so, the country enters a brand new phase.
Head of ADF (Albanian Development Fund), Benet Beci says that photovoltaics provide autonomy and they don't need payments from the local government, which are often a burden for the budget of the commune.
Prime minister Edi Rama praises the project, saying that with the introduction of this new technology, Albania turns into a model in this aspect.
Rama says that this novelty aims at offering a final solution to several problems.
"This is full green energy being introduced. This will solve the problem of the constant theft of cables on the streets. It also solved the problem of the expenses of local government, which is obliged to pay them and on the other hand, this is a big accumulation of debts to the Distribution company, because the electricity bills are not paid".
The production plant of photovoltaic pylons has opened in Vaqar. The prime minister has closely inspected this plant. He said that domestic production is a priority, due to the lower cost and maintenance.
Meanwhile, he added that it's very important to have a transformation as far as lighting the streets of the country is concerned, which in the majority of cases are in darkness.
"It's very important for us to make a transformation in street lighting. It's ridiculous. Darkness rules in our highways", said Rama.
***
Albania's national roads are almost unlit. Even in those few kilometers of highways where lightly pylons have been installed, they are not working.
It's pointless to talk about lighting in secondary and rural roads.
Often, police and experts have identified the lack of lighting as a real source of accidents which often claim human lives. /ibna/