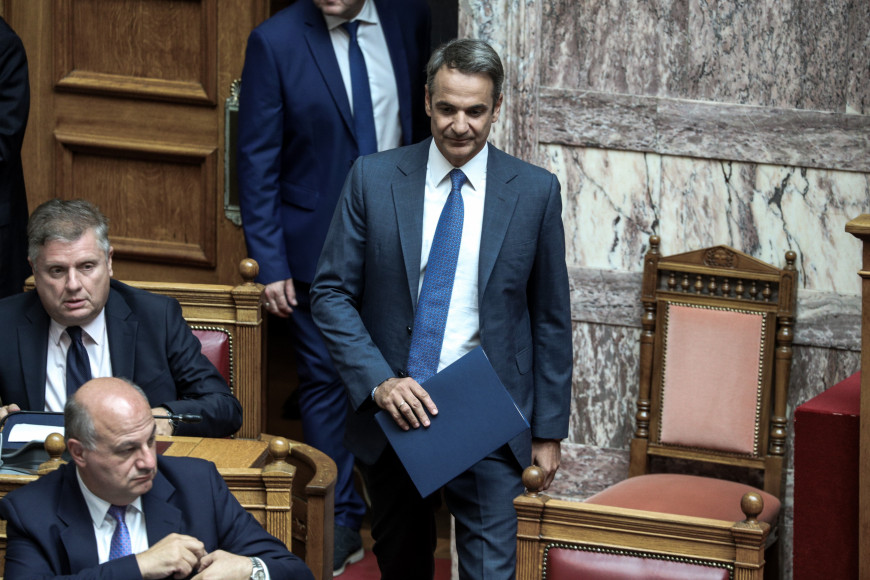 Greek government sources hailed the full lifting of capital controls in Greece as of 1 September as a "return to normality" for the economy, business and banking system.
On Monday, Prime Minister Kyriacos Mitsotakis made an off-schedule appearance in parliament to announce the full lifting of capital controls in Greece as of 1 September.
"Today we are making an announcement that comes earlier than we had planned. In collaboration with the Bank of Greece, capital controls are as of today a thing of the past. The Finance Minister will formally table the relevant amendment and provide some further clarifications", Mitsotakis said. The amendment was approved by the vast majority of parliamentary parties, with only the Communist and Greek Solution parties rejecting it.
The Prime Minister pointed out that the bank holiday and capital controls imposed in the summer of 2015 were the result of catastrophic policies adopted at the time, which are now remedied. Mitsotakis added that Greek banks are now able to borrow on better terms and are healthier overall, while Greek bonds continue to hit new all-time lows. "A new cycle of optimism for the economy, the banking system and Greece begins today", the premier noted.
The main opposition SYRIZA party MPs pointed out that the Alexis Tsipras administration had already put the lifting of capital controls on track in previous months, only for the current government to present it as its own success.
The announcement comes after a meeting of the Systemic Stability Council (Bank of Greece, Capital Market Commission, Hellenic Banking Association, etc.), while the country's international creditors reportedly gave the green light on Saturday. Bank of Greece Governor Yannis Stournaras had recommended that the final restrictions be lifted after observing a continuing increase in bank deposits.
The Bank of Greece governor Yannis Stournaras told Reuters that the decision "marks a return to normality and growing confidence".
The decision "lifts a significant burden on the credibility and the prospects of the Greek economy," the Hellenic Federation of Enterprises (SEV) said in an announcement.
Local reports point out that one of the key aims of the abolition of all restrictions is Greece's upgrading by credit agencies, a move that will boost investor interest in Greece./ibna